A Letter to RBC Shareholders and Staff: Your Bank Is Contributing to Climate Chaos
April 7, 2021
On April 8th, you, the shareholders and employees of RBC, will gather for the bank's annual shareholder meeting to hear all about RBC's plans for the future. You will undoubtedly hear that business as usual is going great and that you can rest at ease, knowing that the bank's investments and business are in good hands.
What you will not hear about is RBC's continued investment in fossil fuels, including dangerous tar sands, gas and even coal projects. Some of these projects violate Indigenous rights. Since the Paris Agreement was signed in 2015, these investments have added up to over $200 billion dollars. That is not only environmentally and socially irresponsible, but also increasingly financially risky.
The fossil fuel industry is on its heels and RBC's deep involvement in its financing poses a fiduciary risk that shareholders need to take into consideration. Since RBC is accountable to its shareholders and workers, it is critical that you know just how reckless RBC has been in its financing of climate change.
Photo credit: Stephanie Lake
Dangerous investments in face of climate emergency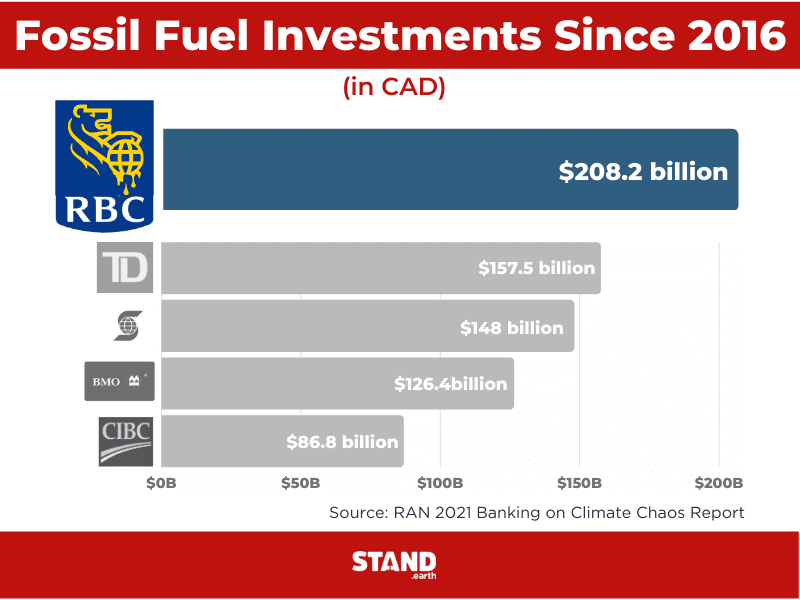 While we should be moving at full speed with investments in real climate solutions — like renewables, retrofitting businesses, climate resiliency projects and carbon-neutral housing — we are being slowed down by continuing to build out new oil and gas infrastructure, such as Coastal Gaslink, Line 3 tar sands pipeline, and LNG in B.C. Between 2016 and 2020, RBC financed $79 billion of business with companies actively expanding fossil fuel production, not just operating existing facilities and pipelines.
Given the increasing urgency of climate change, let's think of it this way: If you need to drive 100km/h in your electric car to get to your destination on time, you wouldn't hitch a tar-sands excavator to the back. That's what the $200 billion that RBC is pouring into fossil fuel companies is — a motherlode slowing down our collective progress.
As more and more international banks, insurers and other institutions like pension funds restrict investments in the tar sands or coal, RBC is increasingly overexposed to these extreme energy subsectors. That's a risk shareholders should be concerned about.
Empty promises of "sustainability"
RBC management wants to eat their cake and have it, too. They tout increasing investments in "sustainable industries." As you will have heard, in February, RBC announced half a trillion dollars would go into sustainable investments by 2025. First rule of balanced nutrition, though: You can't eat an apple to make up for gorging on doughnuts. Putting $100 billion a year into sustainable investments for the next half decade doesn't make up for continuing to put tens of billions into tar sands, coal, pipelines and other oil and gas projects and companies. And it certainly doesn't get your bank's financed emissions down to net zero.
One of the other emerging problems with RBC's big sustainable investment commitments is that there is very little transparency on what connotes one of these investments. Recently, it was disclosed that Enbridge — builder of the Line 3 tar sands pipeline that's making regular headlines in Minnesota for violating Indigenous rights — received a $1-billion sustainability-linked loan from Canadian banks. If the most egregious, rights-violating fossil fuel-expanding projects can be categorized as "sustainable finance," then we're into Orwellian "Peace Is War" territory.
Renewables-based portfolios have consistently and significantly outperformed traditional energy stocks for the past 10 years. Any bank executive who doesn't want to do more business in one of the economy's most profitable sectors should probably be fired. Based on RBC's financing record revealed on March 24, explicit decisions from the senior management have been made to continue to offer lines of credit and underwrite fossil fuel companies to the tune of billions.
The power of shareholders
It's clear the calculus has to change. As science says, we have less than a decade to change the direction of the ship we are on, and the last thing we need is to be spending money on new fossil fuel projects that have a 40-year lifespan, locking us into continued fossil fuel use. It is past the time for the value of our climate and the rights of Indigenous peoples to be worked into the decision-making equation over business deals, even if that means rapidly scaling down ties with an industry RBC has been doing business with and enabling for decades.
As shareholders and employees of RBC, you must consider the impact of your investments and use your leverage and internal contacts to move RBC management to recognize its big fossil fuel problem and take real action to address it. When RBC proclaims the transition can't be too disruptive or that it needs to be there to help the likes of Enbridge, it's simply an excuse to continue to bank on climate destruction.
We are running out of time – and it's time for shareholders and RBC employees to join us in stepping up real climate action.