A movement milestone: global fossil fuel divestment surpasses $40 trillion in assets
March 1, 2022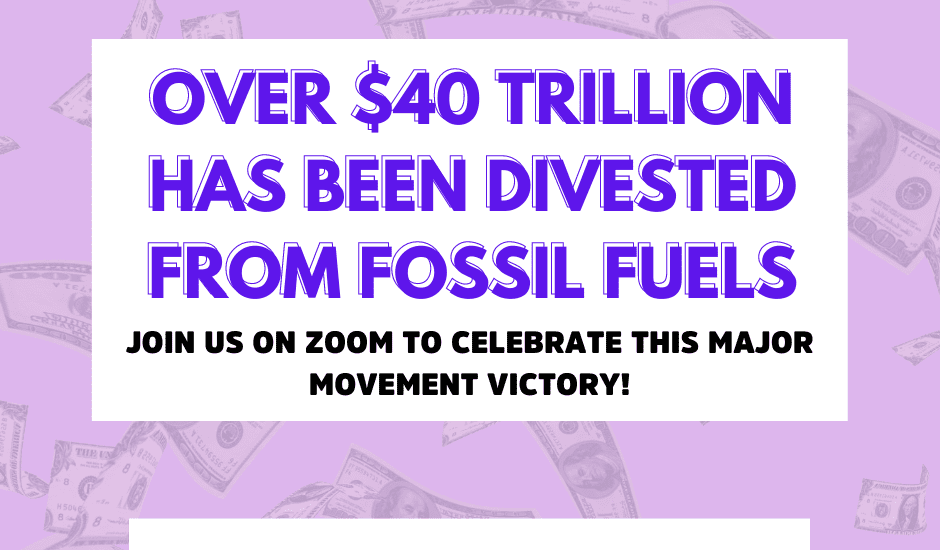 The movement to defund coal, oil, and gas has grown 20-fold since the 2015 Paris agreement. For perspective, $40 T is equivalent to: offering every single person in the world a COVID-19 vaccination — 800 x over; 2021 Global climate damages — 230 x over; 7000 billionaire space joyrides; and just under ½ global GDP
This epic milestone would not have been possible without the millions of people, in communities all around the world, who were mobilized into action through fossil fuel divestment, and are fighting for a safer future. It's proof that going after the money is a winning strategy.
While disturbing, it's also a sign of victory that fossil fuel corporations and their front-groups are taking note of the power of divestment — from the rise of greenwashing and coal executive-authored anti-divestment legislation — they're grasping at straws to hold onto the fossil energy of the past. While they bargain with our lives and livelihoods in the name of profit, the movement to demand financial institutions defund fossil fuels grows stronger.
Inspired by the South African anti-Apartheid movement led by the late Desmond Tutu, what started as a moral appeal to remove the social license for fossil fuel companies to continue destroying our planet is now solidified as a mainstream, prudent financial strategy. With a decade of data, early adopters of fossil fuel divestment report neutral or positive returns. For example, fossil fuel companies are having more difficulty than ever raising money for their toxic projects, with the cost of capital doubling over the last decade while it's dropped for renewable projects.
Polluting fossil fuel companies like Exxon and Shell, and banks and pensions that prop them up, have caused climate disasters to the tune of $750 billion in the last 5 years in the U.S. alone. As increasing floods, fires, drought, and freezes hit Indigenous, Black, historically disenfranchised, and communities of color first and worst, those on the frontlines are also leading the solutions-based just transition. Two years into the pandemic, we all deserve a reason to center joy and community. Together, we are envisioning the world we're building beyond fossil fuels, and together we will win.