Amazon Summit
August 10, 2023
A historic summit to save Amazonia and push governments to take action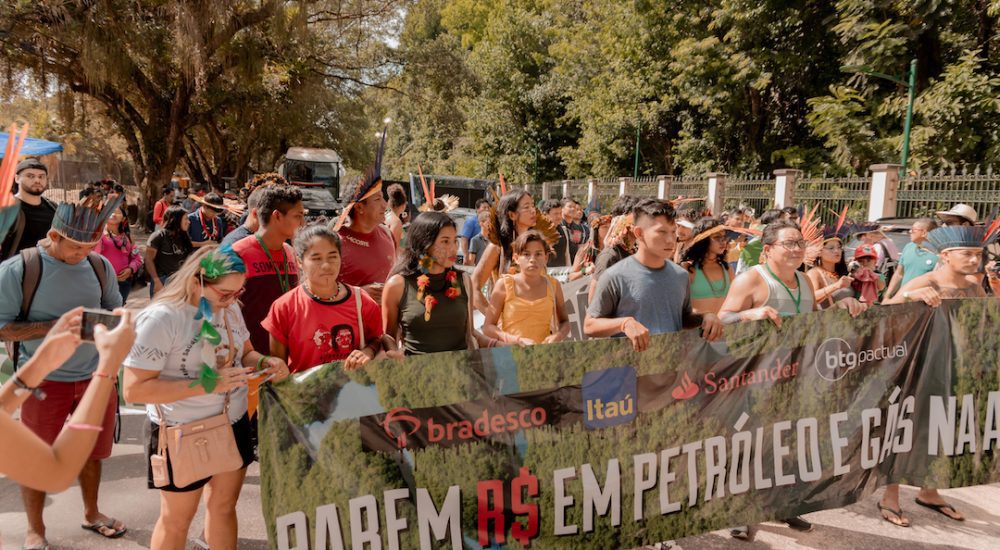 Stand.earth and Amazonia for Life: 80×25 coalition members and allies have just returned from Belem, Brazil where a landmark pan-Amazonic summit took place.
Leaders of eight countries, Indigenous leaders, and civil society organizations hoped to agree on how to protect Amazonia from destruction. Every day, this vital region is being torn by the exploitation of its lands and rivers, while people living there fear they may lose their homes.
That's why we arrived at the summit with a simple but urgent message: Protect 80% of the Amazon by 2025 and support a vision led by Indigenous Peoples to reverse an imminent tipping point. And we are working to make this message heard beyond the summit.
The Amazonia for Life: Protect 80% by 2025 initiative is co-coordinating by the Confederation of Indigenous Organisations of the Amazon Basin (COICA) and Stand.earth and supported by a coalition that includes organizations like Avaaz, Earth Insight, OneEarth, Amazon Watch, and RAISG. Together with more than 1,200 organizations, researchers and individuals worldwide, we are standing in solidarity with the Indigenous Peoples of Amazonia and calling for urgent protection of Amazonia.
"80×25" is supported by IUCN Resolution 129 of 2021 and in the resolutions at the 22nd Session of the Permanent Forum on Indigenous Issues (UNPFII) in April of this year, in which the Forum calls the Amazonian States to protect 80% of the Amazon by recognizing nearly 100 million hectares of Indigenous territories. The Forum also urges Amazonian countries to recognize Indigenous territories as an essential measure to achieve this goal.
Amazonia has been fragmented, deforested, and burned to the point that scientists are warning it could be crossing a disastrous ecological tipping point. Decades of the extractive industry have polluted Amazonia waterways and soil. The continued threat from oil spills, lodgers, and the agriculture industry violates and endangers the lives of Indigenous Peoples.
Protecting 80% is still possible but requires bold, united action. The future of the region will be defined in Belém and the decisions taken here will define the history of the Amazonian countries and the planet.
That's why we're asking the Stand.earth community to amplify this message beyond the summit and make it a global priority to protect Amazonia.
Alicia Guzmán León, PhD.
Co-Coordinator of the Amazonia for Life: Protect 80% by 2025 initiative
P.S. Did you know one of the strategies to support 80X25 is to get banks to stop financing oil and gas projects in Amazonia? Check out our latest report to see which banks are bankrolling the destruction of Amazonia.
P.P.S. Check out this amazing op-ed written by the Avenger himself, Mark Ruffalo in the Guardian.
SIGN THE DECLARATION
Add your name to join thousands of people calling for the urgent protection of Amazonia by 2025.
Take Action