Are top fashion brands' Net Zero commitments worth the paper they're written on?
November 21, 2022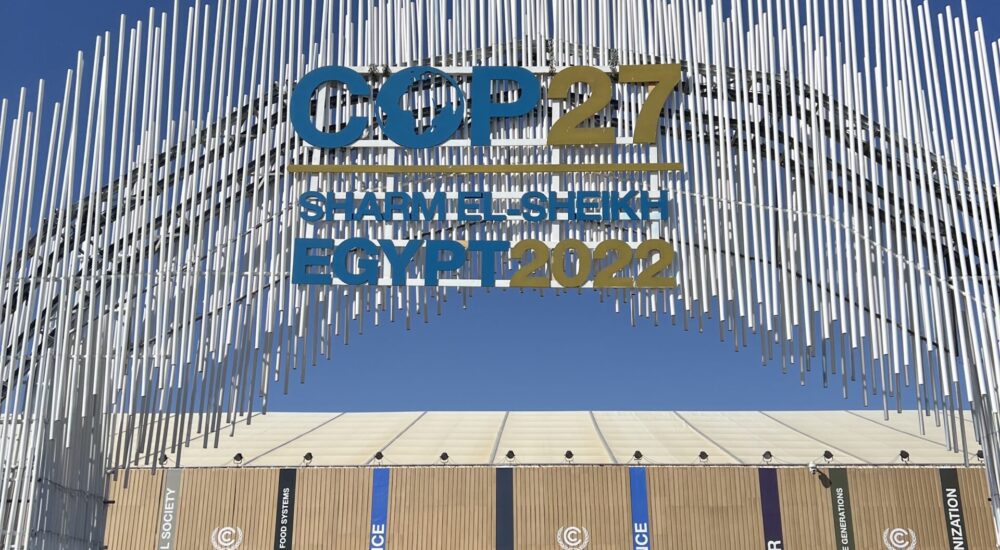 In the past two years, we've seen an explosion in large companies of nearly every stripe announcing Net Zero Commitments. But until now, net zero plans have been a wild west of promises, many from companies looking for a quick PR win with a little real plan to transition off of fossil fuels.  
To put a stop to this, the UN Secretary General charged an expert group to bring some much-needed definition of what a net-zero commitment should look like. This expert group, UN's High-Level Expert Group (HLEG) on Net Zero Emissions Commitment released important new guidance at COP27, to bring some weight and clarity behind what steps a company must take to become Net Zero. These new guidelines give us an important measuring stick to compare brand promises and a strong framework for accountability.
As signatories of the UN Fashion Charter for Climate Action, more than 100 fashion brands and companies have in principle committed themselves to a range of key climate pledges, including a pledge to become 'net zero' by 2050.  While the Charter includes some important definitions of what steps are expected by signatories, how do some of the world's biggest fashion brands stack up against the new HLEG recommendations?
As Stand.earth outlined in the Fossil Free Fashion Roadmap, if the fashion industry is going to start reducing its massive climate impact it's essential that it separate its business model from fossil fuels. Significantly, the HLEG framework sets out 10 key principles that a net zero pledge should adhere to in order to be impactful enough to help keep global warming below 1.5 degrees, including several directly related to ending companies' reliance on fossil fuels.
Key decarbonization recommendations by HLEG on net zero transition:
No use of carbon offsets

to meet emissions reduction targets.

Net Zero targets MUST include an

absolute emissions

reduction target of at least 50%, including the entire value chain

without exclusions

. Weaker intensity-based targets are not acceptable.

Companies must set

interim targets

to ensure that decarbonization efforts begin immediately and continue at pace, starting from 2025.

Transition plans must include a plan to

end support for coal and transition their operations and entire supply chains to clean energy

. In the fashion industry, this should include both thermal coal used directly in manufacturing, and fossil-fuel energy.

Executive compensation

should be tied to progress on environmental commitments.

Companies must be

transparent about their progress

, setting out baseline levels and providing annual updates on their progress towards key targets.
Just Transition:
The HLEG guidance also explicitly states that companies must develop transition plans that deliver a just transition, and which "must consider and address the broader social consequences and impacts of mitigation actions, including on race, gender and intergenerational equity," eliminating deforestation and ending ecosystem destruction. An initial survey suggests that brands have not explicitly and deeply examined how their net zero plans will deliver a just and equitable transition, strengthening local communities and transitioning into a culture of consent rather than extraction, although more work is required to determine who the leaders and laggards in this area are.
So, which of the biggest brands are serious about kicking out coal and other fossil fuels?  To get a snapshot of how meaningful companies' promises are, we took ten key brands from among global fast fashion, luxury, casual and footwear brands, and compared their current commitments with some of the key pieces from the HLEG guidance in three key areas: climate ambition, phasing out fossil fuels and scaling renewable energy, and transparency and accountability.   We found a huge gap between brands' commitments made by signing onto the fashion charter and their actions in developing strong plans to match those words with action.  Brands' net zero plans fall far short of the HLEG guidance in several key guidance areas related to decarbonization.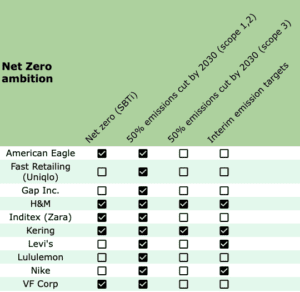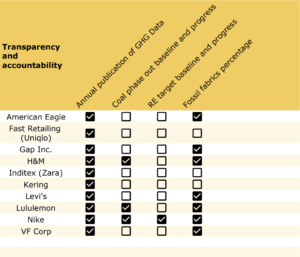 Decarbonization key findings:
1. Net Zero Ambition is not stretching into brands' value chains, where the vast majority of their GHG emissions are buried
Only two out of ten brands (H&M, Kering) have set emissions reduction targets of at least 50% that cover their supply chains

Despite having agreed to a net zero target by signing onto the Fashion Charter, only half of the brands analyzed (H&M, Zara, Kering, American Eagle, VF Corp) have released their own public net-zero pledge that has been validated by a third party, the Science Based Target Initiative (SBTi).

The HLEG also identified interim targets as key to a consistent and urgent approach to cutting emissions, but only four brands (H&M, Nike, Levi and Kering) have set emissions targets before 2030.
2. While brands are embracing renewable energy in their own operations, there's a large implementation gap when it comes to supply chain fossil fuel phase-out.
Only Kering and H&M have committed to 100% renewable energy across their supply chain by 2030, despite energy decarbonization being key to cutting their emissions.

None of the brands analyzed have set a target to remove fossil fuel-derived materials such as polyester or nylon from their product lines by 2030. Fabrics made from crude oil and fossil gas account for roughly 60% of the material inputs in today's apparel, and represent between 15-20%

of the fashion industry's emissions, with climate and human health implications at every stage of production.

Recent research by Changing Markets

, Stand, and Zero Waste Alliance has linked polyester fabric used by many global brands including Zara and H&M to shipments of oil imported from Russia, indirectly funding Russia's illegal war in Ukraine.

Despite their Fashion Charter pledges to phase out coal in factories by 2030, only half of the brands assessed (H&M, Zara, lululemon, VF Corp, American Eagle) have set independent thermal coal phase-out targets, with H&M setting a 2025 target.
3. Brands are failing to provide supply chain transparency essential for accountability to their targets.
While all the brands shared data on their operational and supply chain emissions,

none

of the brands analyzed shared baseline or updated data on the amount of coal burned in their supply chain, or the portion of their supply chain electricity coming from renewable sources.

Without meaningful transparency into how brands are making progress decarbonizing their supply chains, it is impossible to line up their words with real climate action. 
It's clear that right now the idea of 'net zero' is full of potential greenwashing.  With over 100 companies having signed the UN Fashion Charter and its commitment to Net Zero by 2050,  brands' plans still vary widely, lacking consistency in commitments, detail in transition plans, and any real accountability into their supply chains. 
Recommendation: As it stands, the HLEG standards are just a UN recommendation: now the UN Fashion Charter needs to adopt them for the fashion industry, with strict timelines and penalties for failure to comply. It's time to stop net zero greenwashing and push for urgent and transparent action to effect a just transition.
Please see Stand's Fossil Free Fashion Scorecard for a look at how others in the fashion sector are following through on their climate commitments.  We will be updating the Scorecard early in 2023.