Canada's largest bank – RBC – is financing the Line 3 tar sand pipeline
May 6, 2021
In recent months, Indigenous Water Protectors and their supporters have been putting their bodies on the line to stop the construction of the Line 3 tar sands pipeline on Anishinaabe land in Northern Minnesota. They've locked themselves inside sections of pipe, blockaded excavators and shut down construction with pianos. More than 250 people were arrested. And they're not stopping.
Line 3 is going ahead in part because Enbridge, the company behind the project, has secured billions in financing from banks all over the world. One of the biggest banks financing Enbridge is the Royal Bank of Canada – RBC. That needs to stop.
Friday, May 7th, is an international day of action focused on Enbridge's Line 3. The focus of the day is on the financiers of Enbridge, particularly the banks financing Enbridge who are enabling the project to get built.
The Royal Bank of Canada – RBC –, Canada's largest bank, has been involved in at least five of the seven currently active loans to the pipeline company. These loans total more than $9 billion USD, including, most recently, a so-called "sustainability-linked" loan for $1 billion CAD that was issued in February 2021. RBC's role ranges from acting as joint bookrunner, to co-lead arranger, to documents agent and lender. RBC has also been involved in several bond issuances, acting as a lead manager or co-manager on bond issuances totalling more than $2.75 billion CAD since 2019.
They've poured money into Enbridge, even though, as far back as 1995, RBC has stated that it respects Indigenous rights–including Free, Prior and Informed Consent of communities in the face of development on their lands. It also claims to be a climate champion and has committed to achieving net zero emissions.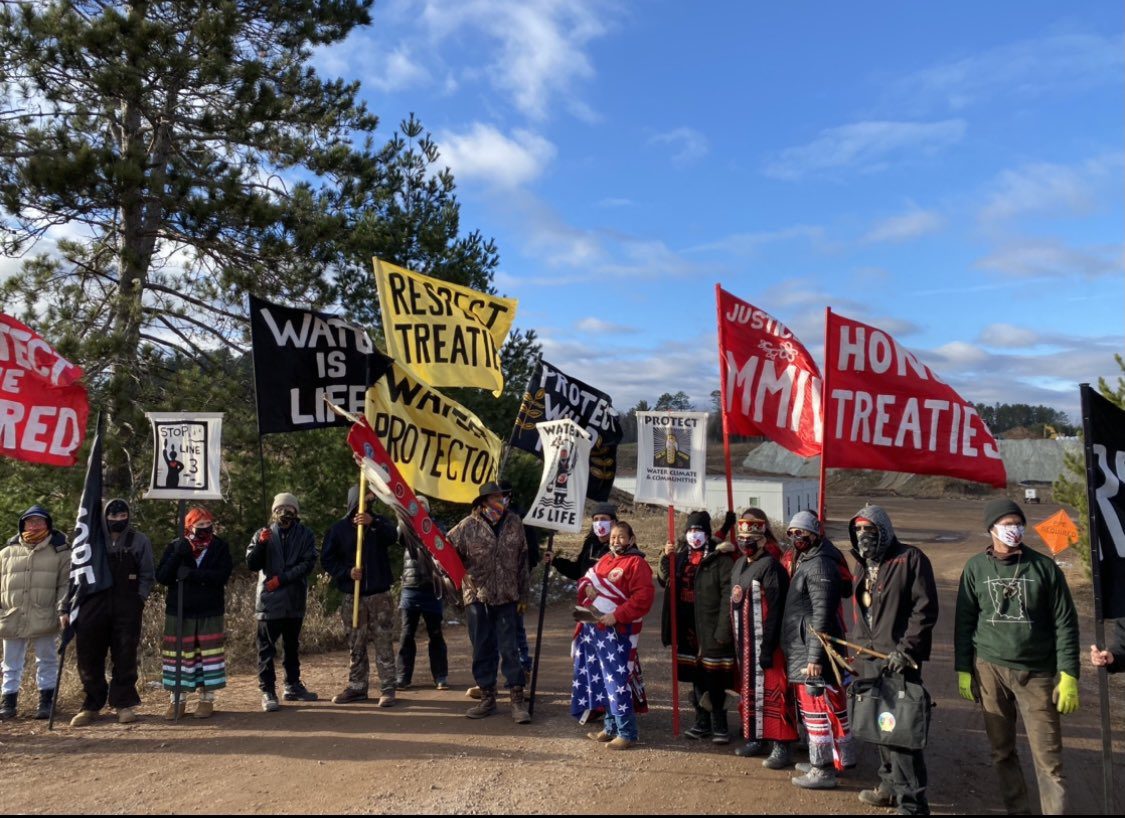 Photo credit: Giniw Collective
But if RBC's promises and commitments meant anything, RBC would have walked away from Enbridge a long time ago. If completed, the Line 3 pipeline will ship more than 760,000 barrels of oil every day, doubling existing capacity. This expansion of emissions is likely to be locked in for decades given the lifespan of a new pipeline, and flies in the face of any net zero commitment. When burned, emissions from this oil would equal about 193 million tons of greenhouse gas per year.
The good news is that opposition isn't letting up. In fact it's increasing. The protests organized by powerful groups like Honor the Earth and the Giniw Collective are grabbing media attention and the pipeline construction and Enbridge are currently being challenged in court by a number of entities including the Red Lake Band of Chippewa and White Earth Band of Ojibwe and Minnesota's own Department of Commerce.
People across Canada and USA – Turtle Island – need to join this fight. Line 3 is about so much more than just one pipeline. It's a test of the climate and human rights commitments made by banks, companies, governments and investors.
Will you take a moment to email RBC's CEO and executive team and urge them to stop financing Enbridge and the rights violating, climate destroying Line3 pipeline?
Can you share some of the powerful social media that the Giniw Collective is posting?
Other Resources to check out:
Canada's Big Banks have a Big Problem: Their addiction to fossil fuels
A Letter to RBC Shareholders and Staff: Your Bank Is Contributing to Climate Chaos
Stop Line 3 campaign by Honor the Earth
Header photo credit: Richard Tsong-Taatarii/Star Tribune/AP