Cities, counties pick up federal government's slack on climate change by freezing fossil fuel infrastructure
February 26, 2019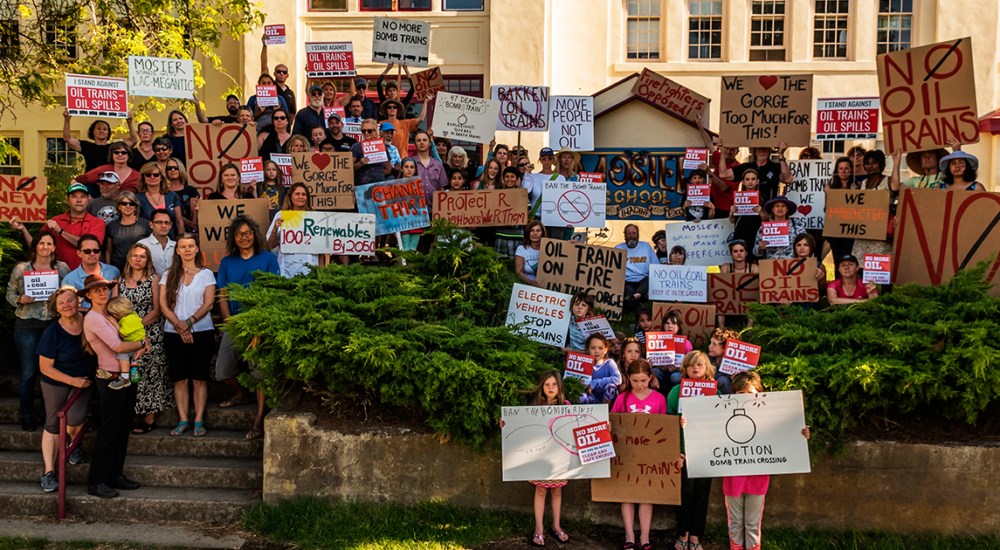 Local governments nationwide join the global fight against the expansion of fossil fuels
There is new hope on the climate front out of the Pacific Northwest, with an inspiring political move from the King County Council that is a harbinger of things to come. Forget about the denialist climate change rhetoric from President Trump and the federal government — cities and counties nationwide are picking up the slack in the global fight against the expansion of fossil fuel infrastructure.
In January, King County councilmembers passed an ordinance freezing new fossil fuel development in the state's most populated county, kicking off a longer-term rewrite of regulatory policies to prohibit new major fossil fuel infrastructure in the county's unincorporated areas — policies intent on curbing proposals for expansions like oil storage terminals and new fracked gas pipelines.
King County's groundbreaking move to prevent new proposals from coming forward builds on a movement to deny municipal permits for already proposed fossil fuel projects. In response to the deadly oil train accident in 2013 that killed 47 people in Quebec, Canada, cities and counties in New York, Maryland, Washington, California, and other states jumped into action to resist this growing threat of oil trains, focusing their attention on preventing new oil train facilities from being built. In recent years, activists have also pressured local governments to find new ways to stop the permitting of other types of fossil fuel infrastructure — things like refinery expansions and export infrastructure, in addition to oil train terminals.
Local action to prevent the expansion of fossil fuel infrastructure is an increasingly critical strategy in the global fight against climate change. The journal Nature reported last month that a focus on stopping new fossil fuel infrastructure and retiring old infrastructure is key to achieving a climate stable world. The paper concludes that if fossil fuel infrastructure is phased out at the end of its lifetime — starting now — there is a 64% chance we can keep global temperature rise below the 1.5°C threshold highlighted in the United Nations' recent Intergovernmental Panel on Climate Change special report.
When it comes to suffering the impacts of climate change, the difference between 1.5°C and 2°C is significant for humans and environments alike. That half a degree of difference means millions of people don't have to migrate due to drought and crop failures, entire island countries are better protected from sea level rise, and Arctic and Antarctic ecosystems are preserved.
Plenty of ink has been spilled bemoaning the utter lack of climate leadership from our federal government and deploring the power of the fossil fuel industry writ large. These are real concerns. Big Oil spared no expense in 2018 elections to combat climate initiatives, spending a record $31 million to defeat a carbon fee in Washington State, and a local record of $8 million to defeat a fracking ban in San Luis Obispo County, California.
The groundswell of local cities and counties using regulatory strategies to stop the growth of fossil fuel infrastructure is a winning strategy that cannot be overlooked. This move to either completely zone out future proposals, or require true accounting of the serious local impacts of those proposals, puts the power back in the hands of the people — just when we need it the most.
King County is following in the footsteps of several cities and counties nationwide who have taken similar action to curb fossil fuel infrastructure growth.
In Portland, OR, local activists worked with city government to ban bulk oil storage, a move that was recently upheld by the state supreme court. In Baltimore, MD, labor, neighborhood, and environmental groups worked with the city council to ban new oil train facilities. In Whatcom County, WA, the County Council has for two years banned permits for new unrefined fossil fuel expansion projects, and in January introduced an ordinance to require new fossil fuel projects to undergo rigorous review of impacts to climate and local endangered species. In South Portland, ME, local land use ordinances now prevent the transport of tar sands — one of the dirtiest and most climate intensive of all the crude oils — through the community.
In Vancouver, WA, Milwaukee, WI, and elsewhere, activists are working to ensure that when communities cap fossil fuel expansion locally, it doesn't simply shift the problem to other places. Right now, activists in New Jersey are calling on the governor to put in place an emergency moratorium on all new fossil fuel projects.
These cities and counties are changing the rules in the fight over climate change. Local action — with the support of the community members and local governments — can and should become the next widespread movement in the fight to stop the growth of fossil fuel infrastructure and hasten the inevitable buildout of the clean energy solutions and transportation economy. It's not just a good idea — it's a winning idea.
Matt Krogh is the Extreme Oil Campaign Director at Stand.earth, a Bellingham-based international environmental organization that challenges corporations and governments to treat people and the environment with respect, because our lives depend on it.