2022 Climate Finance highlights at Stand.earth
December 19, 2022
2022 was a year of connecting the dots, and demystifying the connections between climate chaos and corporate greed.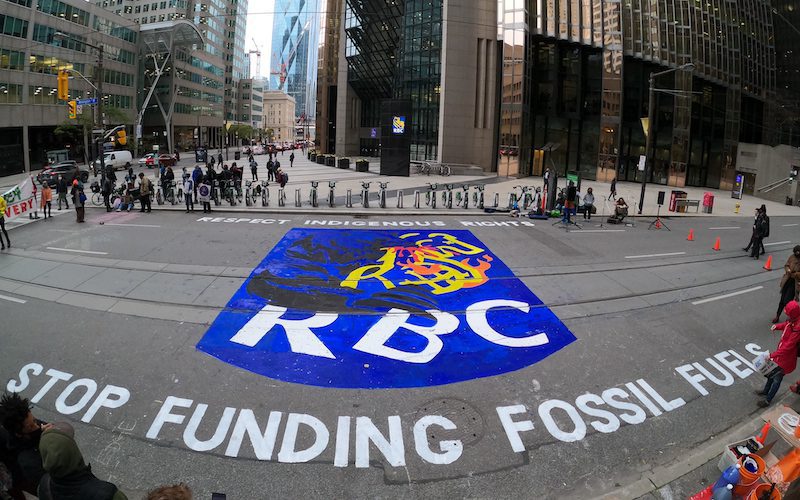 Collectively, we experienced increasing economic insecurity, volatility from Russia's fossil fuel-funded war in Ukraine, and record-shattering climate disasters like fires, floods, and deadly heat. 
All while bank and fossil fuel executives, and the conservative politicians they back, raked in billions in profit, lining their oily pockets while the rest of us struggled with rising prices. Corporate greed and worker exploitation is inherent to capitalism; that's why we're reimagining an economy accessible to everyday people.
In 2022, we unraveled corrupt financial webs, exposing the banks and pensions bankrolling climate-destroying fossil fuels. We are holding the likes of Royal Bank of Canada accountable for Indigenous rights-violations and greenwashing, and demanding pension funds refocus on the people they are meant to serve by leading long-term economic transformation through fossil fuel divestment and reinvestment in climate solutions.
Thanks to our collective power, here's a recap of Stand.earth's Climate Finance Program's 2022 highlights
Global Fossil Fuel Divestment Movement surpasses $40 trillion in assets.
We commemorated the movement milestone of $40 trillion in represented assets committing to divest from fossil fuels – grounding this win in our collective work ahead. 
$40 trillion is equivalent to

covering 2021 climate damages – 230 times over

– or financing 7000 billionaire space joyrides

. 

We won divestment commitments throughout the year

, from Princeton University's $37 billion endowment to dozens of faith institutions. The UK divestment movement flexed its muscles, surpassing 100 university commitments. There are now

over 1555 institutions

committed to divest from fossil fuels.

In October

, the Institute for Energy Economics and Financial Analysis

(IEEFA) released a report

affirming

the financial case for divestment is stronger than ever

.

The

Global Fossil Fuel Commitments Database

, the most comprehensive resource of divesting institutions, was referenced in dozens of mainstream news outlets, including

Financial Times, Bloomberg, The Washington Post

, and

NikkeiAsia

.
Holding Royal Bank of Canada accountable for greenwashing and violating Indigenous rights.
2022 was the year Merriam-Webster added greenwashing to the dictionary, and the Royal Bank of Canada, the country's #1 fossil fuel financing bank, might as well be the photo next to this deception playbook.
Throughout 2022

, we followed the leadership of, collaborated with, and built power alongside frontline and Indigenous leaders to stop sovereignty-violating fossil fuel projects, including with

Wet'suwet'en Hereditary leadership fighting the Coastal GasLink pipeline

.

We supported Wet'suwet'en Hereditary leaders and Indigenous Climate Action to

launch No More Dirty Banks,

including a letter signed by Mark Ruffalo and 65+ Hollywood celebrities and an

op-ed in RollingStone

.

In April

, we collaborated on a complaint to Canada's Competition Bureau on RBC's hypocritical climate claims while continuing to bankroll fossil fuels. 

In April

, we joined dozens of groups to take over

the bank's annual shareholder meeting

with Wet'suwet'en Hereditary leadership, forcing the bank to respond and generating headlines showing that communities will not be ignored.

In June

, we brought a

15-foot inflatable of CEO Dave McKa

y to the annual RBC Canadian Open golf tournament. 

In October

, the Competition Bureau announced

RBC is under investigation for alleged misleading climate advertising

, and we responded to

the bank's shameful 2022 climate commitments

. 

In November

, we revealed

RBC's surging fossil finance of more than CAD $9.2 billion

– just in the first three-quarters of 2022 – and despite their commitments to reach net-zero financed emissions
Climate Safe Pensions Network protects pensions, builds people power.
From Texas to Florida, there's a rise in politically-motivated anti-ESG rhetoric, costing pensioners, workers, and communities hundreds of millions. Made up of 25+ groups across Turtle Island (so-called North America), the Climate Safe Pensions Network is building grassroots power to demand pension funds divest from fossil fuels and protect portfolios and planet alike.
Fossil Free California

– an inter-generational coalition of grassroots groups across the state – built unprecedented power to secure a winning state senate vote on proposed  fossil fuel divestment legislation. Despite fossil fuel front-group opposition, there's momentum to get the divestment law passed  in California in 2023. 

Divest Oregon

pushed for increased transparency, forcing state Treasurer Tobias Read to respond by announcing a decarbonization plan. Unfortunately, the

plan fails to make any substantial investment behavior changes

, priming the legislature to pass the Treasury Transparency bill in 2023. 
Exposing financial institutions bankrolling carbon bombs around the world.
In 2022, we shined spotlights on some of the most egregious fossil fuel projects that pensions and banks are financing.
Coastal GasLink pipeline at a glance
CGL is a 670-km fracked gas pipeline through unceded Wet'suwet'en territory threatening pristine Wedzin Kwa.
Canadian & US financial institutions bankroll Russia's gas empire
With Russia's fossil fuel-funded war in Ukraine, Stand.earth revealed original research on U.S. & Canadian banks and pension funds profiting off the war machine.
EACOP: A risky oil pipeline that endangers East Africa
The East Africa Crude Oil Pipeline (EACOP) is the world's largest proposed crude oil pipeline at 897 miles, whose primary financial backer is French fossil fuel company TotalEnergies. EACOP endangers communities, food, and water, and risks locking in fossil fuels for decades.
In 2023 and beyond, we are building a climate-resilient economy that puts people over profit. Climate finance is not only about stopping the extractive, fossil fuel economy. This is about what we fight for: economic justice and collective liberation in a world free from climate chaos and chronic economic instability. This is about investing in climate-safe solutions like renewable energy, return of Indigenous land, public housing, healthcare for all, free public transit, and climate reparations for impacted communities. This is about reimagining a democratized, financial system that works for all of us.
DONATE TO GIDIMT'EN ACCESS CHECKPOINT: YINTAHACCESS.COM
Stand.earth's Climate Finance Program
By bankrolling in coal, oil and gas, financial institutions enable fossil fuel corporations to continue extracting and polluting.
Learn More