Costco's Wholesale Forest Destruction
February 6, 2020
What will it take for Costco and Procter & Gamble to stop flushing our forests?
Whether you use Charmin or Kirkland, 2-ply or 3-ply, toilet paper is a staple in every household. Companies like Procter & Gamble and Costco market their toilet paper brands as "ultra soft" or as the most affordable on the market. But what these companies fail to mention is the impact that toilet paper has on forests, ecosystems, and people.
According to the Issue with Tissue report, the U.S alone accounts for 20 percent of global tissue consumption, and generates over $31 billion in revenues each year. Part of the problem is that P&G and Costco source fiber for their tissue products from the boreal forest in Canada. Millions of acres of the boreal forest are cut down to make single-use toilet paper. We're literally flushing our forests down the toilet. The other problem is these companies refuse to add recycled fiber to their toilet paper – preferring fresh-cut trees. So, in the wake of this tree-to-toilet pipeline, thousands of species, the global climate, and Indigenous People's ways of life are left distrubed, and destroyed.
For the past year, "The Issue with Tissue" campaign has pushed P&G to stop using fiber from endangered species habitat in its paper products like Charmin and Bounty, and to add recycled content. P&G has refused to make these changes, but the onus isn't only on P&G. Costco's own Kirkland brand is also guilty of forest destruction, and Costco is one of P&G's biggest sellers.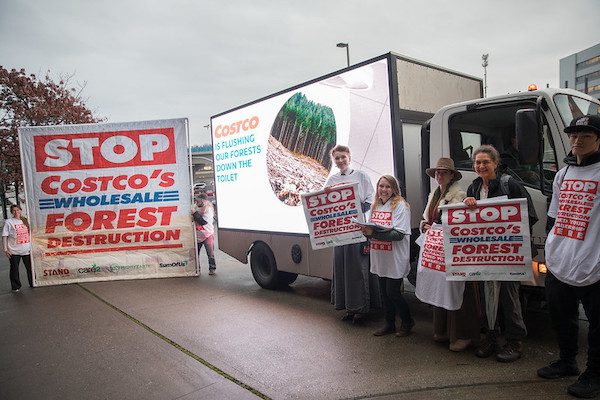 With your support, last month we confronted Costco directly. In coalition with SumofUs, MightyEarth, NRDC, and Care2, we went to Costco's annual shareholder meeting to question the CEO and deliver a petition with over 56k signatures asking Costco to stop carrying forest-destroying brands like Charmin, and to stop sourcing from the boreal forest and commit to using recycled content in its tissue products.
The truth is, many recycled toilet paper products are just as soft as Charmin and take it from us – they get the job done. Using recycled toilet paper means our bottoms can be spotless without destroying forests. We traveled the country asking consumers if recycled was soft enough and strong enough to get the job done. The answer was always yes. And after finding out how much better recycled toilet paper is for the environment and the extent of Charmin's destruction, consumers readily chose recycled. Check out our Blind Wipe Test HERE. So our question is, what will it take for Costco and P&G to stop flushing our forests?
We challenge Costco to get out of the boreal and add recycled fiber to their Kirkland brand toilet paper and to stop selling Charmin until Procter & Gamble stops destroying forests. It's time to #WipeRight.