Fashion @ COP27 – Industry's sustainability pledges are starting to look like the emperor's new clothes
November 16, 2022
As one of the world's highest emitting industries, responsible for 5-8% of global emissions and with a major fossil fuel addiction, the fashion industry has an XXL role to play in COP's decarbonization agenda, but so far its action has been a disappointing XXS.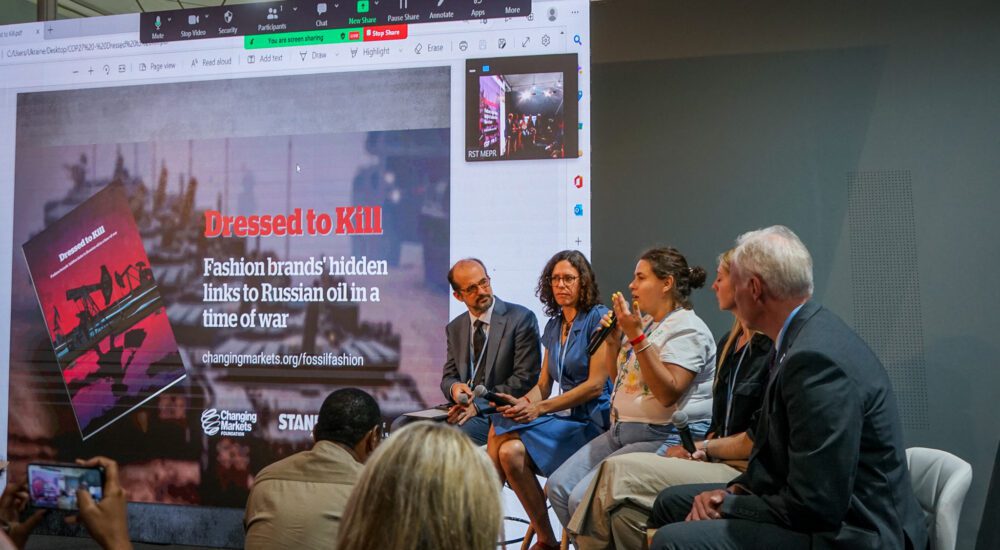 Last year at COP26 the Fashion Charter, representing more than 100 brands and textile companies, upped its ambition to cut emissions in half and fully kick out coal from its manufacturing processes by 2030.
Words and promises are all very well, but in our pre-COP27 emissions analysis, we found that eight out of ten of fashion's biggest and most influential brands are STILL increasing their supply chain emissions, just a year after committing to slash emissions half by 2030. Athleisure giant lululemon's emissions are heading in the complete opposite direction, jumping by more than 60% in the past year! Seems like lululemon's commitment to 'wellness' doesn't extend to the communities on the front lines of climate change, or breathing in the consequences of coal burning on air pollution.
I'm here on the ground in Sharm El Sheikh this week to keep track of announcements that affect the garment industry, hold big corporations accountable by working with partners to highlight the gap between their words and actions and share a new report on fashion deep ties to the fossil fuel industry.
HLEG gives net zero a leg up
The big news is really on that idea of accountability. Fashion can make all the promises it wants, but promises won't clean up emissions or kick out coal. One of the major problems with those lofty net zero goals we keep hearing about is that they come with long timelines and few details, and brands are pretty much free to decide for themselves what 'net zero' means. Well, a body called the UN High-Level Expert Group, including none other than former Canadian environment minister Catherine McKenna, wants to change that. The HLEG net zero standards, released last week, have implications for a whole host of non-state bodies, from banks to mining companies. In the world of fashion, it could finally force some of that industry greenwashing into meaningful climate action.
The guidance sets up a framework for what a net zero plan can look like, and it hits on some critical points: a credible plan for a just transition for workers, real short-term emissions reductions targets (and NO carbon credits), no more coal and a timed plan to transition to 100% renewable energy. Are you listening, lululemon?
Fashion Charter update fails to impress
The UN Fashion Charter for Climate Action held an event on Friday where we saw more self-congratulation from the industry than urgency and little to report in the way of meaningful action. Industry representatives were lukewarm about hitting their targets and barely elaborated on how they were planning to try.
The moment of the day was when youth climate activist Sophia Kianni stood up in front of a room full of execs and told them that while Global Witness may have found over 600 fossil fuel lobbyists at COP27, the number was actually much higher – "and many of them are in the room right now." It's super disappointing – but not at all surprising – that those supposed sustainability execs then totally failed to address her blistering description of communities in the Global South destroyed by textile waste, air pollution, intensive resource extraction and heavy and low-paid labour.
Now the Charter needs to step up and enforce the new net-zero standards on its members – with consequences for failing to comply.
Dressed to Kill – Fashion fuelling conflict
The fashion industry's fossil fuel addiction isn't just having deadly climate impacts, it's fueling conflict as well. We just put out a report with our friends at Changing Markets which found links between shipments of Russian oil and global fashion brands, indirectly funding Russia's illegal war in Ukraine.
Since the start of the war, the oil shipments, unwelcome in many parts of the world, are being bought up for cheap by petrochemicals (plastics) giants Reliance and Hengli. That oil is being turned into polyester and sold en masse to a whole heap of the west's favourite clothing retailers, like H&M, Zara, Target and more – many of which have long since stopped operations within Russia.
During the second week of COP, I spoke on two panels with speakers from Changing Markets, Zero Waste Ukraine and Planet Tracker, where we discussed the impact that the sector's ongoing love affair with fossil fashion is having on the world, and where we can go from here.
Overall it's been a disappointing turnout from the fashion industry so far at COP. Where's the support for real net-zero accountability and a just transition off fossil fuels? Where are the big commitments on increasing renewables and cutting out coal, and more importantly where is the progress? Fashion's sustainability pledges are starting to look a lot like the emperor's new clothes, and it's time to start saying it out loud.