No more fossil-fueled buildings in Bellingham
October 1, 2020
By Ingrid Archibald, SAFE Cities Field Organizer
Boo!
Sorry to frighten you, but it's October now, which means it's time for tricks and treats. Ghosts, witches, and goblins are scary – but you know what shouldn't be? The buildings we work and live in.
Here's a spooky fact: burning gas in buildings (think: heating and gas stoves) is one of the biggest sources of climate pollution in Bellingham. Plus, gas-powered buildings have significantly worse indoor air quality than buildings that run on electricity.
But the sweet thing is that Bellingham can be the first city in Washington to build only all-electric, carbon-free new buildings.
We must call on our leaders to take this step now, before the year ends. Will you please add your name to the petition calling on City Council to act with urgency?
Last year, the city's Climate Action Task Force put out a list of policies that City Council should pass to reduce Bellingham's climate impact and safeguard our future. One of these recommended actions is to make all new buildings electric, so that Bellingham builds clean, carbon-free buildings that won't rely on fossil fuels.
It's been nearly a year since the Task Force put forward its recommendations, but City Council hasn't made them into policy yet. Last month's deadly wildfires showcase just how urgently we need to get off fossil fuels to slow further climate disruption.
We can't afford to let any more time go by.
Add your name to the petition calling on City Council to act with urgency.
Burning gas pollutes our air, leaks harmful methane, and puts our buildings at risk of explosion. It's a bad idea to hook buildings up to fossil gas, especially when there's a better option.
It's time to build for the clean energy future…not the fossil-fueled past.
Bellingham can be a real climate leader, for Washington state and the nation. We know we have a real chance to pass this policy before the end of the year and create a livable future for our communities – but only if the Mayor and Council make it a priority.
To keep strong climate policies at the top of the City Council's agenda, we're building a grassroots movement to make Bellingham SAFE from fossil fuels. We're calling out fossil-fuelled lies about gas and calling on our leaders to pass bold policy that prioritizes our health and future.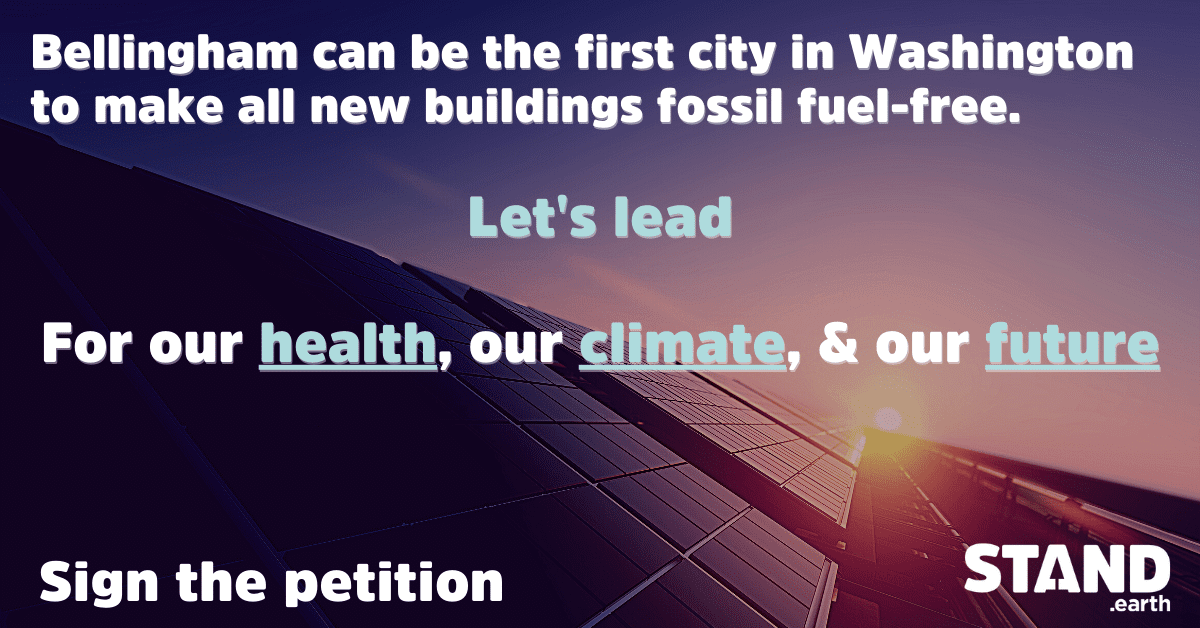 If you want to be part of the movement for a SAFE Bellingham, I invite you to call on the Mayor and Council to listen to their own Climate Action Task Force and make all new buildings 100% electric.
The Stand.earth community is building a movement for a SAFE Bellingham because we believe in real community power. Together, we can phase out fossil fuels and build a clean energy future. But each of us simply can't do this alone – so let's work together to protect our future and make Bellingham the climate leader we need to be. For our community, for our children, and for our future.
Thanks for taking action to make Bellingham SAFE!
P.S. This is a grassroots movement, by and for the community. If you're interested in getting more involved, I'd love to work with you! Just shoot a message to SAFE@stand.earth and I'll reach out as soon as I can.