Procter and Gamble gets a big, fat 'F' in sustainability
July 16, 2020
Thanks to its tree-to-toilet-pipeline, America's biggest tissue manufacturer flunked the Issue with Tissue scorecard for the second year in a row
America's biggest tissue manufacturer, Procter & Gamble (P&G), flunked in sustainability for the second year in a row according to our coalition partner NRDC's Issue with Tissue 2.0 scorecard. The company's failing grade is no surprise, as it refuses to stop making tissue products from 100% virgin fiber from the Canadian boreal forest – one of the largest carbon sinks left on the planet. To make matters even worse, some of the pulp used in Charmin comes directly from the endangered boreal caribou habitat.
Even though P&G claims it has ambitious sustainability goals, it still hasn't committed to increasing recycled fiber or eliminating endangered and threatened species habitat from its tissue products. But as consumers, we have immense power and influence when it comes to shaping P&G's products and services.
TAKE ACTION: Send a message directly to P&G top executives to urge them to stop using 100% virgin fiber from the Canadian boreal forest.
Let's put things into perspective and examine what kind of influence P&G can have on the tissue industry.
According to the Environmental Paper Network's Paper Calculator 4.0, P&G can reduce its carbon emissions by 5.3 million metric tons a year, (which is equivalent to taking 1.1 million passenger vehicles off the road) by using recycled content in place of virgin fiber.
If P&G used half of the amount of virgin fiber it uses for tissue manufacturing, it would save 650,000 metric tons of pulp per year from being turned into throwaway tissue products.
While top toilet paper (TP) manufacturers have yet to step up, the Issue with Tissue 2.0 scorecard shows that more and more companies have been innovating new and greener TPs. Who Gives A Crap, Seventh Generation and Target all topped the charts with their toilet papers made from either alternative fibers like bamboo or post-consumer recycled fibers. They've paid attention to the massive demands from consumers and they've invested in creating TP that doesn't destroy forests and caribou habitat.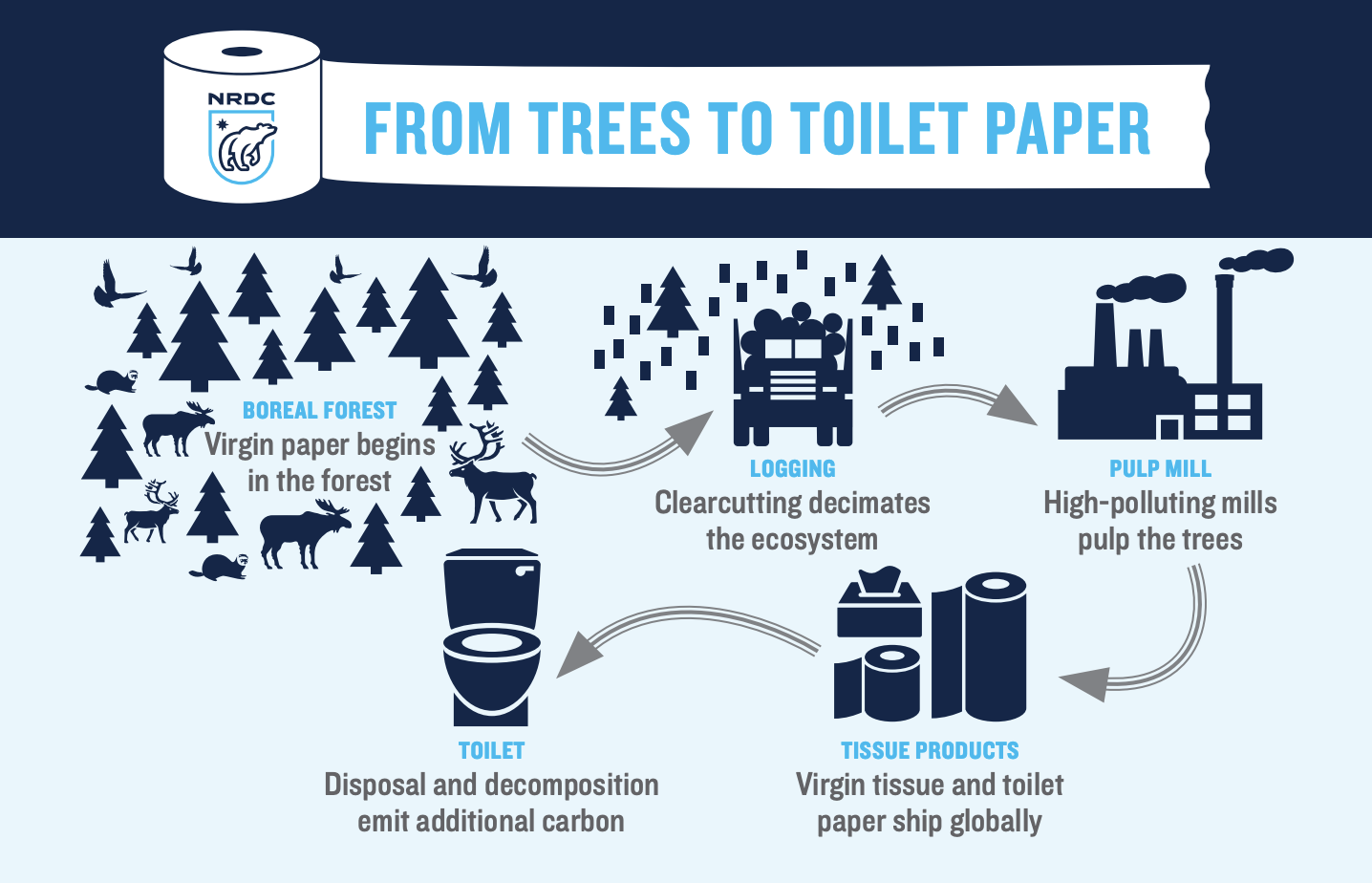 TAKE ACTION: Will you send your concerns directly to P&G executives and ask them to stop sourcing pulp for Charmin from the Canadian boreal?
Instead of investing in gimmicks like robots who deliver toilet paper delivering or a giant roll of TP that will last the average consumer for months, P&G should be investing in improving its tissue product formulas to meet the demands of our current climate crisis.
The Canadian boreal forest is one of our biggest assets in tackling climate change because of the amount of carbon it stores. In fact, it captures nearly twice as much carbon as is contained in all the world's recoverable oil reserves. Even more amazingly, per acre, the boreal holds nearly twice as much carbon as the Amazon.
But the rapid logging of the boreal — over one million acres each year, in part to meet the tissue industry's demands — is reducing the forest's ability to store carbon. How? Clearcutting releases locked-away carbon into the atmosphere, making it that much more difficult for the world to cut its carbon emissions.
As one of the fastest-growing industries, tissue manufacturers must adopt formulas that rely less on virgin pulp sourced from intact forests like the boreal, and implement policies that don't fuel intact forest destruction. We, as consumers, need to push P&G and other big tissue manufacturers in the right direction — especially since demand for TP is now higher than ever.