Quiet (but polluting) luxury – luxury fashion brands are out here costing us the earth
May 8, 2023
Unpopular opinion incoming: luxury fashion isn't actually much more sustainable than fast fashion.
Just like the rest of the fashion industry, the global luxury fashion market is linked to a whole host of serious environmental and human rights issues. Luxury's contributions include sky-high emissions, growing dependence on fossil fuels, opaque supply chains, lack of meaningful environmental commitments, deforestation –particularly in leather supply chains – and serious labour complaints linked to exploitation and poor health and safety.
Luxury brands have a very real environmental and climate impact and make products that by definition are not needed–and yet for some reason, they often don't face the same kind of environmental scrutiny as the everyday fashion brands where most people shop.
Luxury brands are literally some of the biggest fashion companies on the planet. Gucci, Louis Vuitton, Chanel, Cartier, Hermès, Tiffany & Co., Moncler, Prada, and Burberry made the top 20 biggest brands in 2023, and most of these luxury houses are owned by a handful of mega-conglomerate companies. 
The luxury industry is making mega-bucks. 
The CEO of LVMH (Bernard Arnault)– the parent company of Louis Vuitton and Fendi – is the richest man in the world right now, worth an estimated USD $240 billion. For context, that's more than the annual GDP of Bangladesh (which, appropriately, is one of the biggest exporters of clothing and textiles in the world, and clearly not reaping the benefits at quite the same level).
While luxury brands might argue that theirs is by nature a sustainable business model because they're making quality pieces of fashion that are made to last, that claim definitely needs a closer look.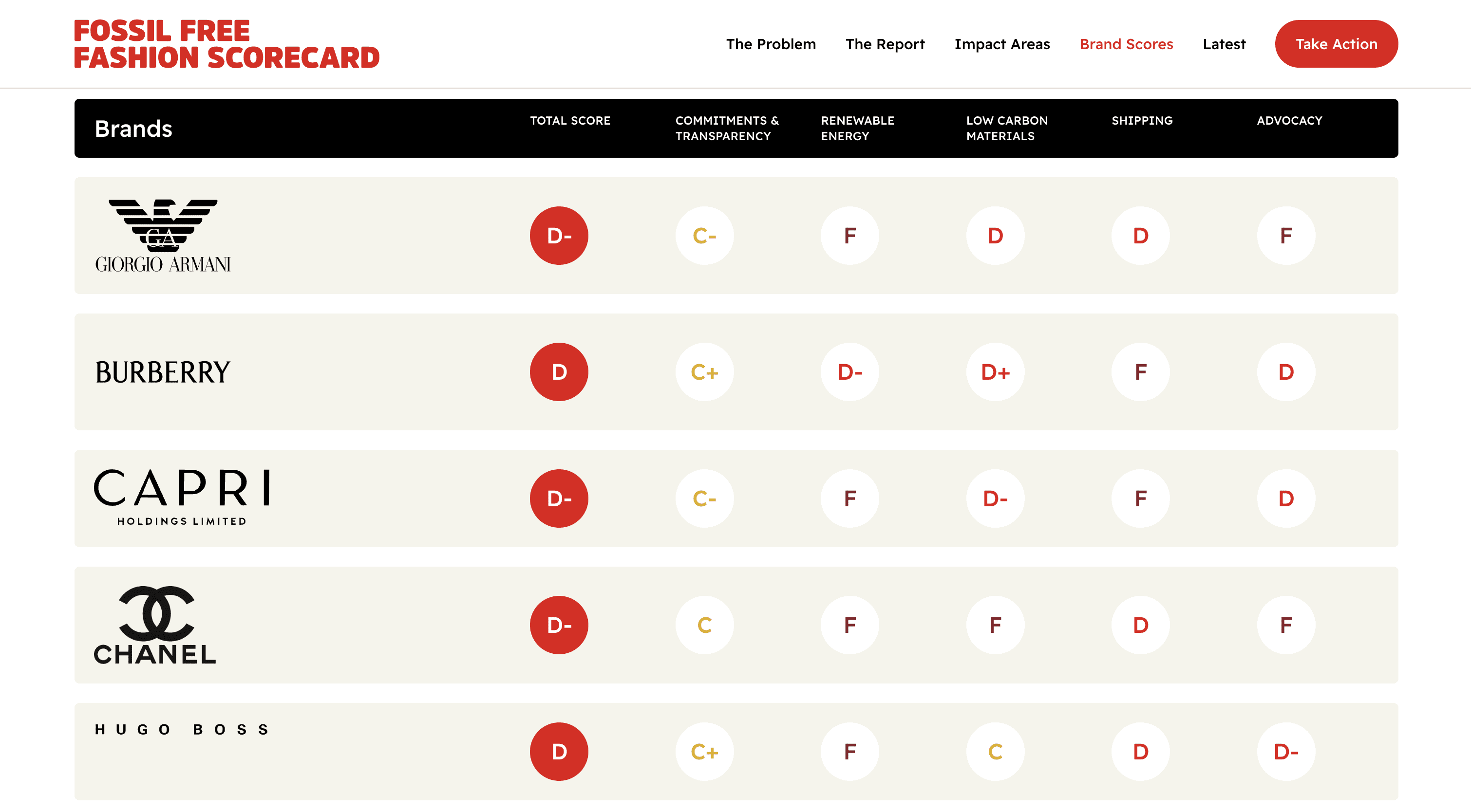 Just the nine luxury fashion companies included in our 2023 Fossil Free Fashion scorecard that reported their emissions created over 13.5 MILLION metric tonnes of CO2 from making their products in 2021 (the most recent available data). That's about the same as the entire country of Lithuania. 
In the Fossil Free Fashion Scorecard, which graded brands' action on decarbonizing their production, among 10 luxury brands we handed out three 'F' grades, four 'D-' grades, one 'D' and two 'C's. Luxury brands actually stood out as performing way below average.
Maybe fossil fuels count as a luxury in this economy?
When it comes to getting fossil fuels out of their manufacturing, it's pretty shocking how far behind the curve these literal trendsetters are. Of the brands in the Scorecard, only Kering – the parent company of Gucci and YSL – has committed to phasing out coal power and transitioning its supply chain to renewable energy. 
6 out of 10 luxury companies in our scorecard provided no supplier list at all
Part of the problem seems to be that luxury brands have traditionally been very hush-hush about what they're up to. Lack of transparency is a big problem when it comes to accountability. Prada and LVMH only started reporting publicly on their sustainability in 2019, and despite global calls for increased supply chain transparency in the wake of the Rana Plaza disaster in Bangladesh 10 years ago, many luxury brands still do not provide public information about who their suppliers are. Six out of 10 of the companies in our scorecard provided no supplier list at all, while three others provided only partial supplier lists, or information for only a small number of their house brands, e.g. LVMH's Fendi has a list, but Louis Vuitton does not.
On average 90% or more of a fashion brand's emissions are in its manufacturing.
That means being able to see what's going on behind the scenes is essential. With a few notable exceptions – we're looking at you LVMH and Chanel – most of the brands in the Scorecard had set relatively strong targets for cutting their production emissions, the problem is that they shared very limited information about how they planned to meet those goals. 
Meanwhile, as the scrutiny on fashion companies has largely focused on the downstream – i.e., what happens to the clothes after we're done with them – brands' high supply chain climate cost has been flying by unnoticed.
Hiding in the supply chain
Let's talk about leather. Leather and luxury goods go hand in hand. The luxury leather goods market is now worth USD $75 billion; that's a lot of shiny leather handbags, belts, and shoes, all sold at the highest prices– which SHOULD guarantee the highest standard of origin, right? Well, not necessarily. 
As we've already covered, luxury brands are seriously lacking in their supplier transparency, and that definitely extends into their leather sourcing. While leather goods may be stamped with the label of 'Italian leather', that can mean only that it was imported and finished in Italy, and one of the biggest exporters of leather to Italy is Brazil. The Brazilian cattle industry is the main driver of deforestation in the Amazon Rainforest, so the fact is that there is a very real chance that that lack of transparency is hiding the fact that luxury shoes and handbags are directly contributing to the deforestation of the Amazonia.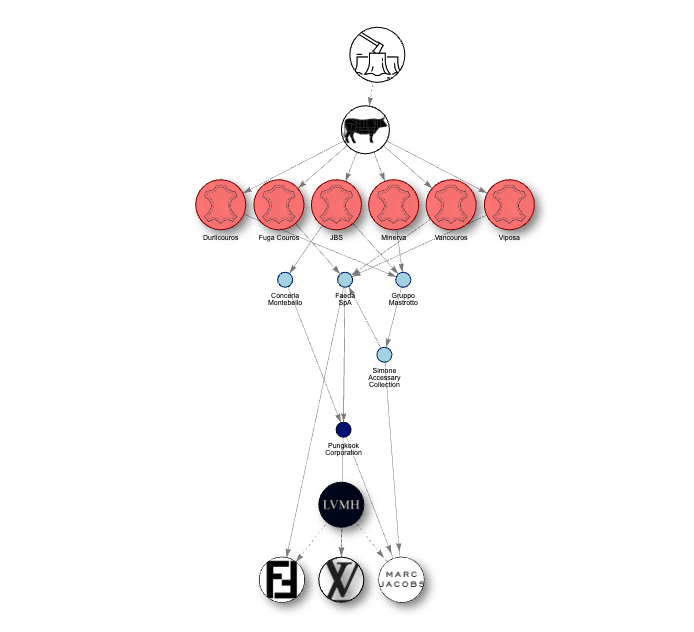 In 2021, Stand.earth completed deep research into import-export data from JBS, the biggest beef and leather company in Brazil which has been consistently found to be the largest contributor to deforestation in the Amazon rainforest. That research discovered links between many of the biggest global fashion brands and JBS, including luxury frontrunners Armani, Louis Vuitton, Fendi, Chloé, Michael Kors and Prada. Luxury brands are important influencers and major leather buyers – it's time they focused on cutting down emissions, not trees, and phased out Brazilian leather at a minimum.
There's no "environmental premium" holding back consumers who are already paying luxury prices.
Luxury brands have flown their private jets below the radar for too long. There's no "environmental premium" holding back consumers who are already paying luxury prices. These companies have every resource going to ensure that their manufacturing meets the highest environmental standards, yet they have a long way to go before they can be called sustainable. These global giants need to commit to being far more open and transparent about their impacts and their actions, commit to phase out fossil fuels and deforestation from their supply chains, and transition to 100% renewable energy. As it stands they are a luxury the earth can't afford.
ADD YOUR NAME
CALL ON LUXURY BRANDS TO CLEAN UP THEIR SUPPLY CHAIN
Take Action