San Francisco Bay dredging proposal is a handout from Trump to the oil industry
April 3, 2020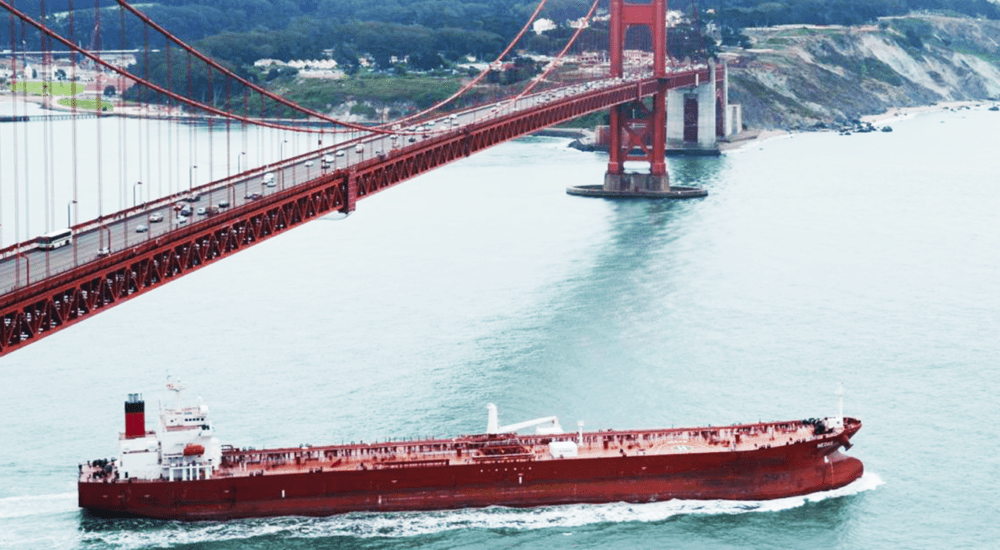 The U.S. federal government and the Army Corps of Engineers are enacting a plan that will threaten the health of California communities.
By Isabella Zizi, Climate Campaigner, Stand.earth
From the outside looking in, the Bay Area is a bastion of progressive values and environmental stewardship, but when you look a little bit closer, the picture isn't nearly as pretty. Right now, with support from local governments, the federal Army Corps of Engineers is pushing forward a proposal to dredge the San Francisco Bay to accommodate more oil tankers. This project is a handout from the federal government to the oil industry, at a time when California communities and the world need to push forward a clean energy transition.
A few miles north of San Francisco lies the "refinery corridor" of the East Bay. In this corridor are five different oil refineries, which for years have poisoned people who live nearby, causing respiratory illnesses, birth defects, brain damage, and cancer, all thanks to the refinery smokestacks spewing heavy pollution on a daily basis.
This is my home. My reality. I am a member of the Northern Cheyenne, Arikara and Muskogee Creek Nations and I grew up in Richmond, living two miles away from the Richmond Chevron Refinery. In August 2012, one month after my high school graduation, a massive explosion at the refinery sent 15,000 residents to the hospital. Since then, I've been advocating for a just transition away from these dangerous, polluting facilities to a clean energy future.
I'm telling you this so you understand where I'm coming from when I say: President Donald Trump and the federal government are enacting a plan that will make our state's situation even worse. And not just for East Bay communities like mine that live along the refinery corridor – for everyone who calls California home.
Pollution implications
The Trump administration has commissioned the Army Corps of Engineers to dredge the San Francisco Bay, deepening a 13.2 mile stretch between Point Pinole and Martinez in order to accommodate larger oil tankers laden with heavier, more toxic crude oil known as tar sands. The original dredging proposal might have benefited the Central Valley by deepening the channel to the Port of Stockton, but the revised dredging route is dramatically shorter, and largely benefits the refineries along the Carquinez Strait.
If Trump is successful, there are disastrous implications, beyond increased air pollution in local communities which comes a result of the refineries processing heavier, dirtier crude oil like tar sands.
A major threat comes from the dredging process itself. Tearing up the bottom of the Bay with destructive equipment won't just damage the fragile marine ecosystem, it will also bring toxins such as arsenic and mercury back to surface that will poison our water and land.
Then there's the issue of the tar sands crude oil itself. While any kind of oil spill is a disaster, tar sands is especially dangerous because it doesn't float. During a tar sands spill, the oil sinks, making it almost impossible to clean up. A tar sands spill in the Bay would remain for decades, and likely cost billions of dollars to even attempt to clean up.
And those are just the local impacts.
Trans Mountain Pipeline connection
In Canada, my brothers and sisters from the Secwepemc, Tsleil-Waututh, and Squamish Nations, the Coldwater Indian Band, and others have been fighting for years to keep the extraction and transportation of tar sands out of their territory via the Trans Mountain Pipeline. Indigenous water protectors and land defenders have been at the forefront in protecting the sacred system of life since time immemorial. We cannot let them down by allowing the Bay Area to become a refining hub for tar sands.
There's also the broader climate to consider. Tar sands is one of the dirtiest crude oils on the planet. One study projected the Bay Area's dredging project would allow for up to an additional 7.2 million tons of CO2 to be released into the atmosphere from the additional oil brought in. That's the equivalent of 1.4 million additional cars on the road for one year.
The world needs to start phasing out fossil fuel production – and Trump's plan encourages just the opposite. It gifts four Bay Area oil refineries with millions in subsidies, pumps up the production of petroleum products, multiplies the risk of oil spills in local waters, threatens marine life, and increases greenhouse gas emissions and toxic pollution.
How you can help
This proposal simply cannot be allowed to happen. And right now, we have a chance to stop it.
Until April 6th, this dredging proposal is in a comment review period. It is up to you to send messages to the Army Corps of Engineers and your local elected officials stating your public opposition to this project. Read the environmental impact statement and use our easy online form to submit a comment in opposition to the project to the Army Corps of Engineers.
As Californians, we must stand together and act as one in opposition. The future of our home is at stake.
Isabella Zizi is a Climate Campaigner at Stand.earth, a member of Idle No More SF Bay, and signatory on the Indigenous Women of the Americas Defending Mother Earth Treaty. She is a 25-year-old lifelong resident of the East Bay and is a member of the Northern Cheyenne, Arikara and Muskogee Creek Nations. To learn more about the Bay Area dredging proposal, visit https://www.protectthebay.org/.