Stand.earth hosts a Block Party at lululemon HQ
October 24, 2023
Who says climate action can't be fun? We celebrate the incredible Stand.earth community and all the people who've been pushing lululemon to ditch coal and publicly commit to going 100% renewable in its supply chain – right outside of its HQ.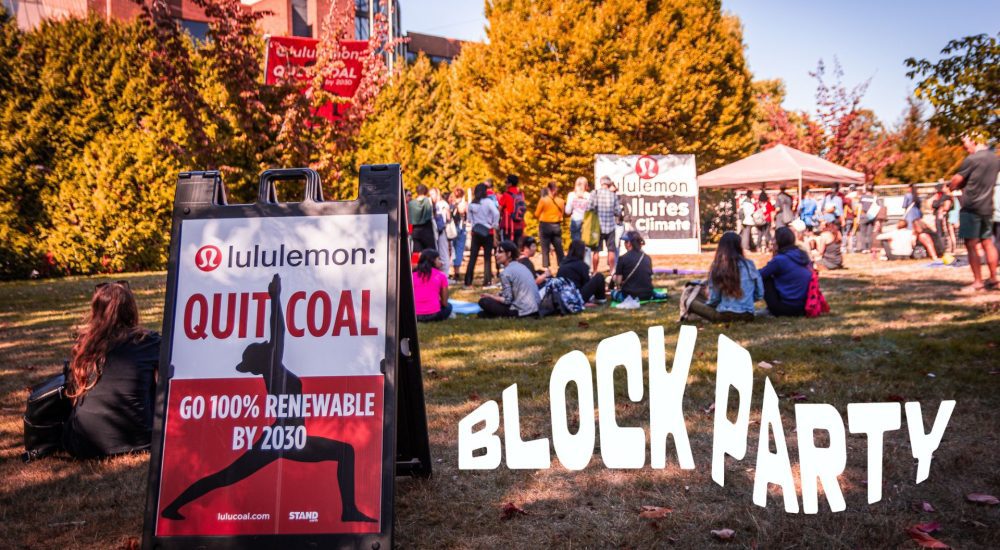 Imagine this: Close to a hundred people gathered outside lululemon's HQ in central Vancouver doing yoga, jamming out to local musicians, and showing up for a climate-safe future. 
This was the formidable sight on September 14th when the Stand.earth community came together to urge lululemon to stop using coal in its manufacturing. Check out the pictures below.
In the company's 2022 climate report (released days before our action), lululemon reported another year of staggering growth in emissions with no meaningful action to curb it, (but plenty of plans to double its profits at the cost of the environment). In case you missed it, lululemon's emissions increased by 83% between 2019-2021 already. And just in case lululemon's CEO isn't feeling the urgency of climate chaos, can you take a moment to send him a personal note?
TAKE ACTION: URGE LULULEMON TO PUBLICLY COMMIT TO PHASING OUT COAL AND TRANSITIONING ITS SUPPLY CHAIN TO 100% RENEWABLE ENERGY.
Earlier this year, lululemon scored a 'C-' in Stand.earth's Fossil Free Fashion Scorecard, which evaluated the company's performance in taking steps to deploy renewable energy in its supply chain, how its climate targets stack up against others, its state of progress in transitioning from fossil fuel based fabrics to low-carbon materials, and its actions to reduce fossil-fuel pollution from shipping.
In order to meet its climate targets and live up to the image of sustainability it attempts to project, lululemon must publicly commit to transitioning its factories to 100% renewable energy by 2030.