Starbucks Cups Destroy Forests: 8000+ Paper Cups a Minute Used Once & Trashed
August 15, 2016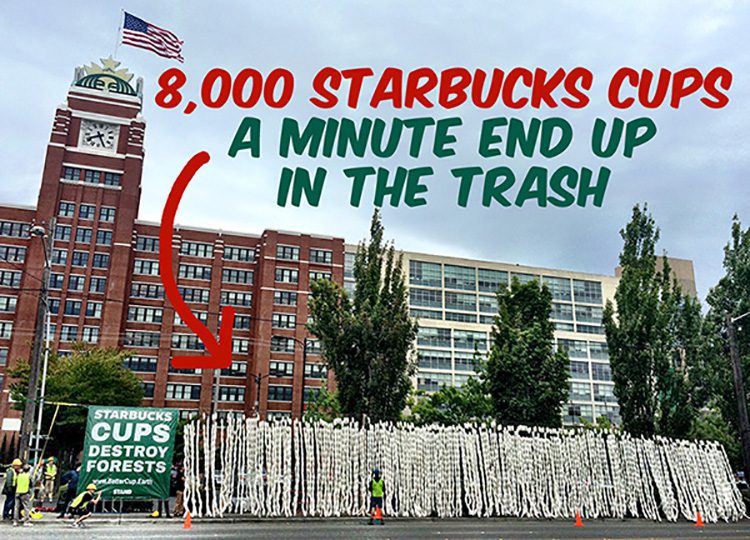 On Thursday, July 7, at 6:20 a.m. a yellow Penske rental truck pulled up in front of Starbucks Headquarters in Seattle. Ten Stand.earth volunteers jumped into the back of the truck and pulled out a series of 62 large plastic bags each of which was dangling from a long steel cable.
It weighed a lot and the volunteers slowly, methodically laid it out this giant caterpillar-like thing on the sidewalk and began removing the hefty bags. Inside each bag were hundreds of Starbucks paper cups strung together in 11-foot lines that, when the steel cable was lifted, would form a 75 foot long wall of cups. In total there were 8,181 paper cups. When the volunteers strung that steel cable between two telephone poles all 8,181 cups formed a massive wall that from the street obscured the Starbucks main entrance.
8,181 is a lot of cups: it's the number of paper coffee cups that Starbucks serves every minute, every day of the year. The vast majority of those cups are thrown in the trash. The banner that hung alongside the wall of cups read: Starbucks Cups Destroy Forests.
The volunteers were met with incredulous private security officers who blocked them from entering the building to deliver copies of Stand's new report,Starbucks Cuts Forests for Cups. Our volunteers were heartened, however, by employees who streamed by the cup display, many stopping to thank us for pushing the company to follow through on its commitment to serve a better cup. Starbucks, in a statement on our action quoted by the Globalist, stated: