TAKE ACTION: Tell big fashion brands to honor their climate commitments
May 21, 2020
As the fashion industry rebounds from COVID-19, companies must prioritize the health of their workers, customers, and the planet.
The fashion industry is slowly gearing up to restart – with factories reopening and workers going back to work in Asia. But the danger of COVID-19 has not dissipated. Studies have shown that there is a strong link between air pollution and coronavirus deaths. Even before the pandemic, people living in areas with high levels of air pollution had a much higher risk of contracting diseases experiencing health problems.
As one of the biggest polluting industries in the world, the fashion industry needs to prioritize the health of its workers, customers and the planet. That's why we are pushing fashion companies that have already made climate commitments to be a leader and invest in a green recovery. It's time for sustainability to be more than just a buzzword – it's time for it to become the standard.
TAKE ACTION: Sign the petition to make sure fashion companies with climate commitments honor their goals. Tell them they must invest in renewable energy in order to create a livable and breathable environment for workers and customers.
A green recovery for the fashion industry
What does a green recovery for fashion look like? First and foremost, fashion must move away from coal by investing in a cleaner power. Right now, the majority of the fashion industry is powered by coal, and it is causing irreparable damage to the environment and risking the lives of millions in its supply chain and beyond. Before COVID, countries like Vietnam, China, Bangladesh, and Turkey had plans to extend their coal grid by collectively building hundreds of new coal plants – increasing fashion's reliance on coal.
But fashion companies cannot continue to veil their filthy affair with coal by greenwashing anymore. Now is the time for companies to act on their climate commitments and reset their supply chain on a new, cleaner power source. Based on our scorecard, 20 companies have made commitments to source at least 50% renewable energy in their own buildings by 2035.These companies have made the first step, but they need to commit to covering their supply chain (as most of their emissions come from there) and implementing their commitments. This is the time to transform their climate goals into actions by baking sustainability into their business model.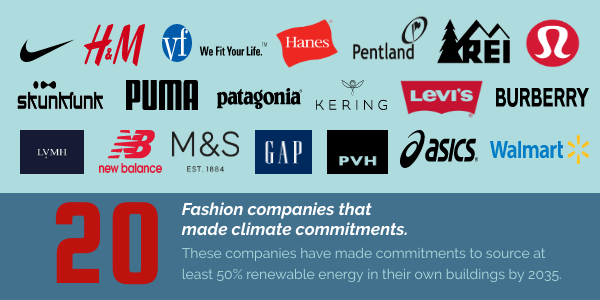 The fashion industry's toxic impact
The fashion industry is known for having a toxic impact on the environment on many fronts, like its massive 79 trillion liters of water consumption, 92 million tonnes of waste produced each year, and its chemical pollution and CO2 emissions. Wouldn't you agree that the industry needs a big, fat reset?
The World Health Organization (WHO) estimates that over 4.2 million people die each year due to outdoor air pollution. This pandemic era has quite literally cleared the air and shown us just how dangerous emissions are. In a study by Stanford University, it found that the reduced air pollution during the lockdown in China likely saved the lives of over 77,000 people. It's clear that the fashion industry cannot go back to business as usual.
TAKE ACTION: Add your name to the petition urging these 20 companies to be leaders and invest in a green recovery by breaking up with coal.
Shifting whole industries seems like a daunting task, but the health of fashion workers, consumers, and our planet depend on it.