The fashion industry is at a crossroads: Ditch fossil fuels or continue with pollution as usual?
October 12, 2020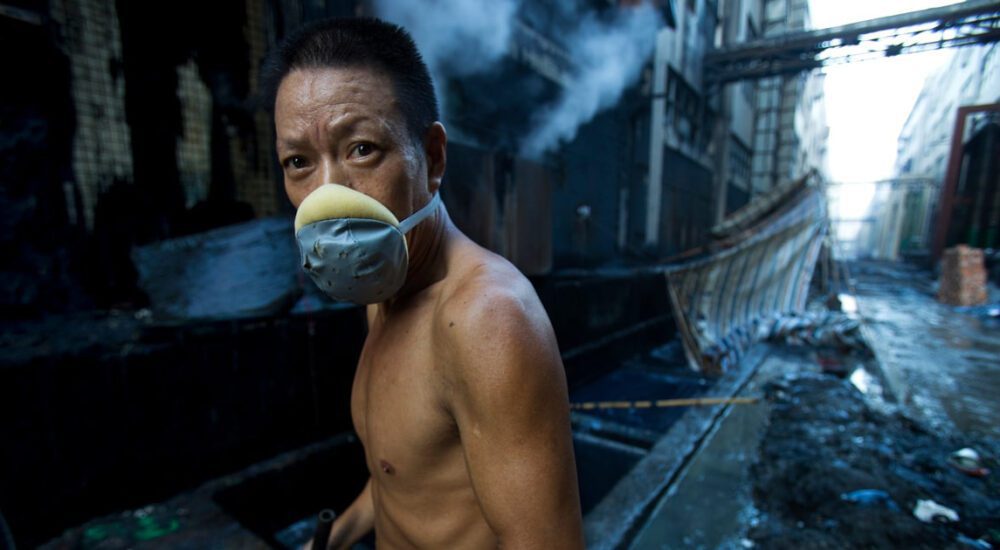 The fashion industry's biggest sustainability event of the year — the Copenhagen Fashion Summit — is about to kick off. Here's what leading brands need to do to clean up their climate pollution and build back green after the COVID-19 pandemic.
The Copenhagen Fashion Summit is debuting as CFS+ this year, rebranded like many other conferences forced to shift to an online format to accommodate the global COVID-19 pandemic while seeking to continue forward momentum, even in an altered landscape.
Despite being hit hard by the pandemic, fashion brands are increasingly coming around to the view that cleaning up the industry's climate pollution will be critical to the sector's recovery, not hinder it. In the wake of the pandemic, a wide range of recent surveys indicate customers are signaling they are interested in consuming less, and placing a greater value on those brands that are environmentally and socially responsible.
If fashion brands were waiting for the right time to actually stop runaway climate change — by weaving tighter relationships with suppliers and shifting their supply chains away from fossil fuels — the time is clearly now. Dirty energy will not go away so long as big brands drive demand for it. By rapidly transitioning their supply chains from coal to renewable energy sources and moving away from fossil fuel-based fabrics, fashion brands will help stimulate the rapid drawdown of climate pollution that is required to bring our world back from the brink of climate collapse.
An array of movements by major brands illustrate forward momentum, including plans to increase recycled material content, garment resale and recycling initiatives, and the growing adoption of science based climate reduction targets — even by companies hit especially hard by the economic impacts of the global pandemic. But as last year's UNEP Emissions Gap report made abundantly clear: We were not on the right path prior to the pandemic. If we hope that the Earth will stay within 1.5 degrees Celsius of warming, greenhouse gas emissions must be slashed in half in the next 10 years. This will require a rapid phaseout of coal by the end of this decade. Given the heavy reliance on coal and other fossil fuels in its supply chain, the fashion industry has a big mountain to climb before it can claim real progress on climate change.
Is climate ambition on the CFS+ agenda?
Ahead of this year's CFS+ summit, the Global Fashion Agenda released the Fashion on Climate report in partnership with McKinsey & Company. The report came to a similar conclusion as Stand.earth's Fashion Forward: A Roadmap to Fossil Free Fashion report. The conclusion? The fashion industry is far from meeting the mark on climate. As fashion brands seek to recover from the pandemic, they are at a critical crossroads: Ditch fossil fuels or continue with pollution as usual?
Climate leadership by companies with supply chains in nations expanding coal-fired power — locations responsible for generating more than 95% percent of the sector's total emissions — will send the signals that will ultimately drive access to renewable energy. Surveys repeatedly show consumers want fewer, greener, and longer-lasting clothes, not incremental improvements on a business model that is heavily dependent on fossil fuels and highly wasteful.
Which brands leading on climate will be the first to raise their targets in line with the science that shows we must cut global greenhouse gas emissions by 55% by 2030 in order to align with the UN's 1.5 degrees Celsius pathway?
Sustainability movers & shakers
Implementing ambitious climate pollution reductions in supply chains is no easy lift, but it is within reach. Fashion companies must prioritize areas where the majority of emissions are concentrated, and they must deepen their relationships with their suppliers.
CFS+ features a number of speakers from fashion brands leading on sustainability in general, and climate commitments specifically. Some of it is groundbreaking, but some of it is greenwash, but here are some notable highlights:
Increased transparency & commitment: Sneaker company Allbirds lists carbon dioxide emissions for the majority of its products, showing transparency at every level is possible.
Focus on renewable energy in the supply chain, but beware false solutions like offsets: Nike is deployment of rooftop solar by suppliers in China, and utilizes joint procurement in China and Vietnam by suppliers.
Outside of the fashion industry, the IT sector provides good examples of renewable energy procurement. Apple's push for 100% renewable energy in its supply chain caused the Taiwanese semiconductor maker TSMC to sign the largest renewable energy deal in history. Facebook, Google, and Apple have all released ambitious climate plans because they know the only way out of this fiery mess is to rapidly scale up their renewable energy use.
Renewable energy advocacy: Advocacy is a critical tool for brands with supply chains in countries that rely heavily on coal-fired power and do not yet provide significant access to renewables. Large companies can provide the demand for renewable energy that is needed by governments in order for them to shift their energy grids away from dirty fossil fuels.
Recently, several big brands — including H&M, Gap, PUMA, and Adidas — sent a letter to the Economy Minister of Cambodia expressing concern with that nation's plans for coal-power plant expansion. Following that letter, over 170 business and investor CEOs sent a letter urging the EU to raise climate targets by the end of the decade.
Fashion industry needs bold climate policy
One of the biggest challenges to curbing climate change is that our understanding of the problem and its progression deepens every year — while at the same time, most greenhouse gas emissions are still rising year over year. The maddening result is that the amount of pollution we know we need to cut increases every year. With so little time left, the fashion sector will need to move faster and create bolder and more innovative plans to rapidly reduce their greenhouse gas emissions.
In a sea of corporate climate commitments that do not go far enough, as we now know — which trailblazing fashion brands will be the first to raise their climate targets to meet the demand of consumers, listen to climate science, and commit to focus their COVID-19 recovery plans on coming back green?