The government lied about Trans Mountain
May 24, 2022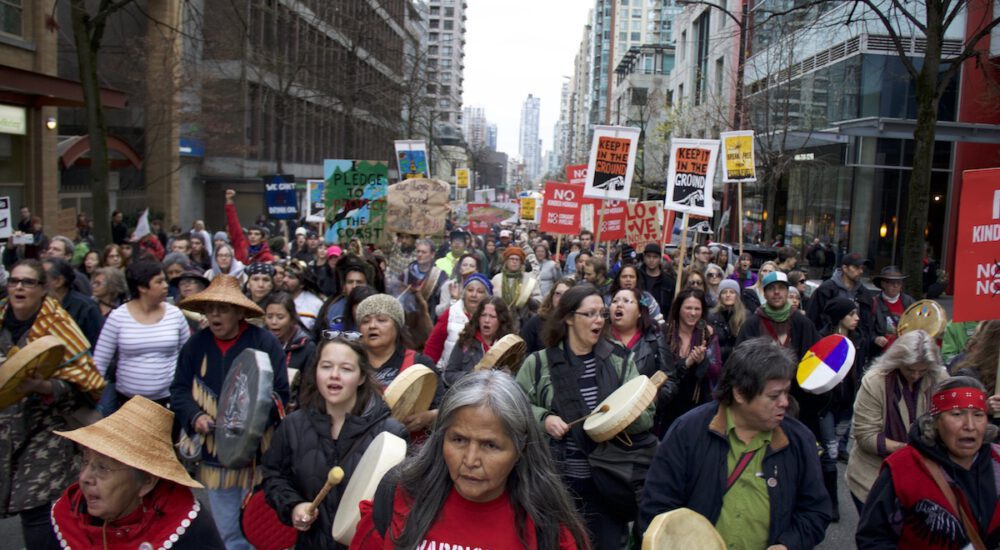 Despite claiming a few months ago that it would funnel no more public funds into the Trans Mountain tar sands pipeline, Justin Trudeau's government has walked back on its word by approving a $10 billion loan guarantee for the project. In other words, they helped the pipeline secure $10 billion of additional financing from banks by promising to pay back the loan if the financially drowning project can't. They also gave Trans Mountain an additional $1.75 billion in December that hadn't been previously disclosed.
Once again, Justin Trudeau and Chrystia Freeland have lied to Canadians about the Trans Mountain pipeline. And once again, it's taxpayers like us who are on the hook for Trans Mountain's now $26 billion dollar price tag. With this amount of money, we could have doubled the amount of renewable energy currently generated in Canada.
Make no mistake: This amounts to a nearly $12 billion dollar fossil fuel subsidy, while the world is already reeling from forest fires, floods, and the other very real impacts of climate change. We are long past the time when governments can talk about fighting climate change in one breath, and approve new oil extraction projects (*cough, cough Bay du Nord*) or prop up a failing pipeline in the next.
That's not all. What else is the government using taxpayer money for? Putting Indigenous land defenders in jail.
The day before news broke of this $10 billion loan guarantee, Will George, a member of the Tsleil Waututh Nation, was sentenced to 28 days in prison for a peaceful protest opposing the Trans Mountain pipeline – a pipeline being forcefully built through Tsleil Waututh territories and waters without consent. The day the loan guarantee decision was made back in April, a United Nations human rights committee formally urged the government to stop construction due to human rights violations.
Is this what reconciliation looks like to this government? Is this what they mean when they talk about 'climate action'?
Over the last decade, our movement has had setbacks we weren't sure we would overcome, but we've had our fair share of victories too. And despite any new challenge thrown our way, we have always kept going, and we've come up with new and innovative ways to delay and further isolate this climate-wrecking project. One of those strategies was knocking off all Trans Mountain's insurers – and we're seeing incredible momentum on that campaign right now.
Two more insurers recently cut ties with the pipeline within two weeks of each other, becoming the seventeenth and eighteenth companies to refuse coverage for this risky project.
We will continue going after this pipeline from every angle: through political pathways, the insurance industry, and by targeting investors. During the last federal election we pushed hundreds of politicians to pledge to fight to cancel the pipeline. We're continuing to keep the pressure on insurers like AIG and other Lloyd's of London syndicates (AIG alone got over 54,000 emails and hundreds of phone calls from us all the other week!). And now we're scheming up a new plan to target the banks who could still finance purchasing of the project.
This news is infuriating – but if anything, it's just more evidence that this pipeline is not viable without being propped up by the government, and that it's way past time the Liberal government allowed this project to be canceled and get taxpayers off the hook for future losses.
If you haven't already, please add your name to the petition and show the government just how much public support there is for canceling the pipeline – before any more tax dollars are wasted.
This pipeline will never be built. And we're not going anywhere.
If you want to read more about what this news on Trans Mountain means, check out this thorough explainer in the National Observer.