Tzeporah Berman's testimony to Senate Committee on Bill C-69, a bill to reform Canada's environmental assessment processes
April 8, 2019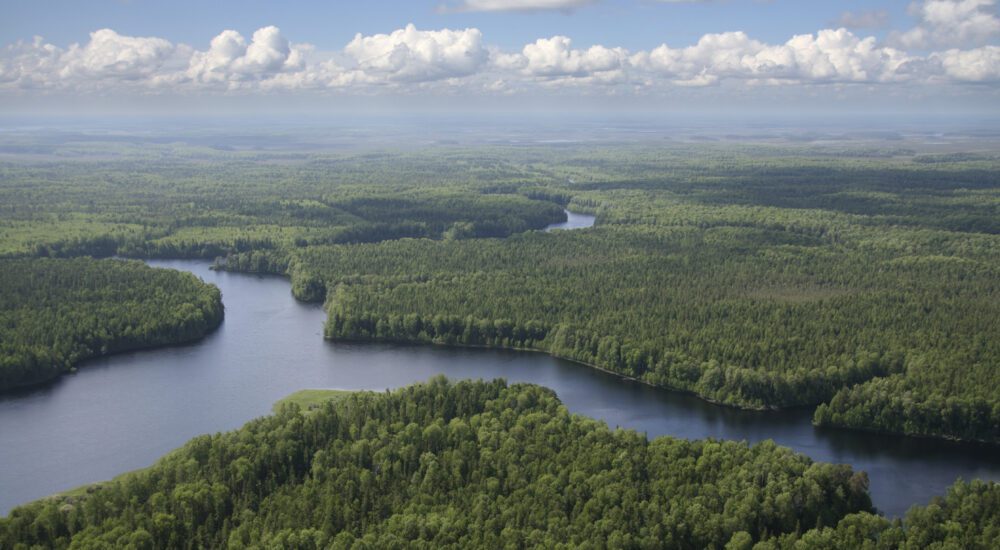 "I am here today to urge you to resist the pressure from the oil and gas industry to weaken or outright kill Bill C-69."
Good afternoon Senators. Thank you for the opportunity to speak today. I want to respect and appreciate that we are here today on the unceded territory of the Musquem, Squamish and Tsleil Waututh peoples.
I am here today to urge you to resist the pressure from the oil and gas industry to weaken or outright kill Bill C-69. From my perspective this legislation is not perfect, but it is an improvement over what we have right now and essential to ensuring proper assessment, restore public confidence, and provide industry certainty.
We need to begin this discussion by acknowledging that many Canadians have lost faith in the federal government's ability to conduct fair and balanced environmental assessments — a fact illustrated by the protests and legal challenges in the wake of several high profile assessments. This crisis in legitimacy was made much worse by the Harper government's bills C-38 and C-45, which was a naked attempt to placate industry by fast-tracking projects through review with limited transparency and oversight.
The trust that our government was there to protect clean water and to keep our children healthy was shaken to its core. Increasingly it seemed that our government was willing to put the demands of the oil and gas industry ahead of scientific evidence and the national interest.
Not only has this loss in confidence been bad for our government institutions, it has also been bad for industry — because as long as assessment processes regularly ends with legal challenges there will be no certainty for project proponents or their investors. It is only through returning confidence that environmental assessment processes are rooted in fairness and the shared values of both wanting to protect the environment while creating economic opportunities, that communities will accept the outcomes.
As you are probably aware, in 2012 the previous government gutted the Canadian Environmental Assessment Act and amended the National Energy Board Act and Navigation Protection Act through Bills C-38 and 45. This was done at the request of oil and gas companies in an attempt to make it easier for them to get approval for their projects — regardless of concerns and needs of Canadians and Indigenous Peoples. With this historical context, it is of little surprise that the oil and gas industry is mounting such a strong campaign to prevent this government from restoring credibility to the environmental assessment process.
I urge you to withstand that pressure and instead consider three priorities that must be the foundation of a strong Impact Assessment:
Recognition of Indigenous Rights

Ensure Fair and Open Public Participation

Include a Climate Test

Indigenous Rights
No environmental assessment regime can succeed unless it respects the title and rights of Indigenous Peoples. The courts have been very clear: if assessment agencies and the Crown fail in their duty to consult Indigenous Peoples, they will quash permits and overturn approvals. The rights of Indigenous Peoples and UNDRIP must be upheld in Canada. At present C-69 does not do this. It does require consideration of Indigenous Rights, which is an improvement but not as strong as it should and could be.
I defer to the Indigenous law experts and Indigenous leaders to clarify their needs, but I want to take this time to express the support from Stand.earth for full recognition of the rights of Indigenous People in Bill C-69, and support for amendments proposed this morning by the First Nations Leadership Council.
Public Participation
Canadians want a say in how their lives are impacted — be it from how a mine impacts where they live, or how a major oil and gas project affects the climate. They are concerned about the quality of their lives and they must have the opportunity to participate in the process to determine which projects will be approved. The quality of life of everyday Canadians should not be decided by a process designed by and for the benefit of oil and gas companies, and that excludes or dramatically limits public participation.
Much of the controversy around environmental assessments has been driven by the larger debate about pipelines and the National Energy Board. My organization, Stand.earth, was granted intervenor status in both the NEB assessments of the Northern Gateway Pipeline and the Trans Mountain Pipeline. As a result, we have witnessed firsthand the changes caused by Bill C-38 and the NEB Act of 2012 that undermined any hope of a fair assessment.
The hearings for the Northern Gateway Pipeline were designed prior to the gutting of the environmental legislation in 2012 and they were open to anyone who wanted to participate. The NEB heard from thousands of local residents who were granted a few minutes to address panel members, and in the more formal hearings lawyers had the opportunity to challenge the evidence presented by the company through oral cross examination. Despite the participants' understanding that opponents of the project started with a disadvantage, there was a feeling of hope surrounding the hearings — a feeling that the panel was listening, and that their participation potentially meant the project could be improved, if not stopped.
The Trans Mountain Pipeline review process was conducted under the revised CEAA 2012 and amended NEBA. The scope of the hearings was extremely narrow. Participation was extremely limited. So limited, in fact, that many scientists, academics, and local residents were refused the right to intervene, and in some cases even submit a comment, on the project. In fact, in order to apply to comment on the project, the public was required to fill out an 11-page application form. The application form to become a Canadian resident is shorter and less complicated. The oral cross examination was gone and so were most of the in-person hearings. Moreover, the ones that did take place were a hollow shell of the public engagement that had happened just a few years before.
Not only was the public not able to testify before this panel, they were barred from the hearing room all together. This lead to the somewhat surreal scene of local residents gathered in the street outside the Burnaby hotel where the hearings took place, day after day, while the panel meet a few floors above in almost completely empty ballroom, with a cordon of police milling around the entrance to keep the two groups apart. Anytime you need to call in the police to make sure the public is kept out of a public hearing, it is unlikely that the outcome of that process will be accepted as legitimate.
Bill C-69, as it currently stands, addresses many of the issues that have plagued the environmental assessment process since 2012, namely that it:
Removes the standing test, which means that the public has the right to participate in public processes 

Requires participation to be meaningful

Allows for the public to be engaged in how they participate

In doing this, the public will begin to trust the process, and while they may not like the final decisions, they are more likely to accept them if they feel it has been meaningful and inclusive. There is little doubt that they will reject the decision if they have been excluded or the engagement has been shallow and meaningless. This is human nature and applies to people from all sectors, not just environmentalists.
Climate Test
Canadians are concerned about climate change. They are concerned about the risks to their homes from the dramatic increases of floods and forest fires. It is only April, and yet here in BC we have already had 19 wildfires. They are concerned about the impacts to their health from extreme heat and the health impacts of air pollution. They are concerned about the planet that their children will inherit. And while this may not be evident in the headlines of the paper, according to polling work, this crosses party lines.
Canada has committed to reducing GHG emissions by 30% below 2005 levels by 2030 — a target that is far too low and one that likely will not be met with the current suite of policies. Canada, along with almost every other country in the world, is also signatory to the UNFCCC Paris Agreement, which commits to reducing emissions by 80% by 2050.
The assessment of major projects, many of which will result in the release of significant amounts of GHGs, must consider "the extent to which the effects of the designated project hinder or contribute to the Government of Canada's ability to meet its environmental obligations and its commitments in respect of climate change." This is not an unreasonable ask.
This is saying that Canada needs to plan for a climate safe future, and ensure a quality of life for future generations free from the threat of more extreme weather then we are experiencing now.
This is saying that Canada will honour its commitment to the Paris Agreement.
This is saying that Canada will respond to the latest report from the United Nations Intergovernmental Panel on Climate Change that gives us just 11 years to make serious reductions in our climate pollution if we want to avoid the worst impacts of a changing climate.
This is saying that Canada will be responsible for the pollution we create and do our best to ensure we can keep the world as close as possible to only a 1.5° temperature rise — a safe climate for our children.
And yet, both CAPP and CEPA have requested that this be removed. When you look at the recent report from the Government of Canada that states, clearly, that Canada is warming twice as fast at the global average, you would think Canadian oil and gas companies would want to work harder to reduce GHG emissions in order to be good corporate citizens, not try and exacerbate the problem by removing any semblance of a climate test from the Impact Assessment Act and the Canadian Energy Regulator Act.
I am sure, as this Committee travels across Canada, there will be many groups and individuals linked directly or indirectly with the oil and gas industry advocating for the weakening of the climate test. I beg you to not bow to this pressure.
Reducing GHG emissions means everyone is doing their part. It means putting a price on pollution, retrofitting buildings for energy efficiency, developing clean fuel standards so we pollute less when we drive, it means one day everyone having electric cars, it means phasing out coal. And all of this work being done by everyday Canadians to reduce emissions cannot be cancelled out by the needs of a few oil and gas companies. Everyone has to do their part, and this means oil and gas companies need to asses their projects within the context of Canada's commitment to tackling climate change.
CAPP is right in its testimony that investment is down in the oilsands. That is a hard truth we need to recognize and plan for as a nation. The fact is, declining investment will not be solved by weakening public participation or environmental assessment. The hard fact is that the oilsands are one of the highest cost and highest carbon oils on the planet, and they are being increasingly priced out of the market. This can't be solved with weak assessments or more pipelines. It's why many international companies have fled the oilsands — like Total, Statoil and Shell. The world is changing. Quickly. It won't be easy, but we need to change with it to ensure we build a strong economy and a safe climate for the next generation.
Let me add just one more thing before I wrap up. There are those that have suggested that the real purpose of this hearing is to block this legislation from being enacted by running out the clock on this parliament. I hope that is not true. This has been further exacerbated by the recent decision by the Senate to not commit to a date for a third reading, putting C-69 further at risk of not making it back to the House for final passage.
Canada needs to restore public confidence in its environmental decision-making, and more broadly in our democratic institutions.
Which is why I am appearing here today to ask you to support Bill C-69. You chose to commit to public service, likely in part because you love this country. Because you want to do your part to ensure that we have a strong country, a strong economy and a strong democracy. Despite our differences on particular projects or policies — I expect we all do.
There has been considerable fea mongering by the oil and gas industry about this Bill. They have argued that it may constrain projects. It may. Because despite some good practices, company by company or project by project, we now know that the cumulative impact of industrial development on our water, our air, and our global climate is unacceptable.
The toxic legacy of our oil and gas industry is growing, and remains a huge challenge for Canadians. Last year we hit the mark ot 1 trillion litres of toxic sludge in open unlined tailings ponds in Alberta alone, and we now know we have billions in liabilities of mines left abandoned, and other liabilities that rest on the taxpayers' shoulders — to say nothing of the challenge of managing production levels of a high cost, high carbon oil in a world threatened by climate change, and a global economy being restructured by the electrification of transport and countries around the world setting dates to ban the combustion engine.

Bill C-69 requires projects to be assessed for sustainability and economic viability in the short and long term. f bitumen extraction and pipeline projects are sustainable, they can compete within this framework.
It's interesting that it does not frighten everyone in the resource industries. The Mining Association of Canada, for example, supports the proposed Impact Assessment Act as an improvement over the current law. Its position is based on deep experience. Mining projects account for roughly half of the federal assessments completed under the current law.
As Professor Robert Gibson has noted recently in Policy Options: "Surely oil and pipeline projects should also be expected to meet C-69's sustainability standard. If proponents of these projects fear they cannot, their problems go well beyond what changes to C-69 can fix."
We need better and more thorough assessments of projects and greater transparency regarding the choices that are being made, in order to make the best decisions for Canada and ensure that those decisions have widespread support. That is what will give investors and industry certainty in this country. Trying to ram projects through a sham approval process that does not provide transparency over decisionmaking or clarity over how critical issues were weighed and assessed will only continue to create conflict, delays, and opposition. Canadians deserve better.
Bill C-69 is weaker than it should be, and I agree with the amendments proposed by Eco Justice and West Coast Environmental Law Association to make the legislation stronger, but it will help undo the damage that Bills C-38 and C-45 have done to this country and create a more transparent process that assess critical information and creates a more democratic process.
In particular I want to draw the committee's attention to provisions in the current bill which would allow federal Ministers to exempt projects from assessment. All projects that fall within federal jurisdiction, happen on federal lands, or receive federal dollars must be reviewed. This was the law in Canada between 1975 -2012 and I believe that Canadians were served well be this regulatory regime.
In summary, if you want to protect Canada's environment and our economy, if you want less protest, less litigation and more certainty, pass this Bill.
Thank you, I look forward to your questions.