Urge the CDC to extend the No Sail Order
September 3, 2020
Submit a comment to the CDC to extend the No Sail Order
Cruise ship companies want to start up operations again in a month's time! Yes, you heard it right. Cruises could be on the water by the end of September. Even though as a result of their lack of health regulations and honestly, lack of care to protect people, thousands of passengers and crews were exposed to and contracted COVID-19 while on board cruise ships. To make matters worse, as countries closed their borders, these same passengers and crews were stranded in the middle of the ocean for weeks.
But we have a chance to delay the return of cruise ships…
The U.S. Centers for Disease Control and Prevention (CDC) is inviting comments from the public about new CDC guidelines for cruise ships safely resuming passenger operations. The CDC will "carefully" consider all responses from this comment period. We have a unique window of opportunity to influence the CDC to set regulations that will ensure polluting cruise corporations like Carnival, will not return to business and pollution as usual and risk the lives of passengers and crews.
I will admit, it's a bit of a process, because you have to individually go to the site and submit your comment. But I've broken down the process below, so that you and I can submit our comments with ease, and in the smoothest possible way. Trust me, it will be sooo worth it when we influence the CDC to set stronger guidelines and prevent premature return of cruises. The impact of this action could be bigger than any petition you've signed or email you've sent to decision makers.
Ready? I know you whale rock this! 人◕ ‿‿ ◕人
1. Click here to go to the public consultation website. (You might want to have that page, and this email, open in different tabs so you can keep switching back and forth).
2. Click the 'COMMENT' button on the top left hand side of the screen to start writing your comment. (Don't know where to start? Scroll down below these instructions for some tips on what to say!)

3. You will be redirected to a page where you will have space to type in your comment. Please type in your comments where it says, "Start typing comment here…"
4. After typing your comment in, scroll down and enter your email address (for submission confirmation) in the specified area and continue to scroll down. For the question asking "Tell us about yourself! I am…" you can choose either An INDIVIDUAL or ANONYMOUS.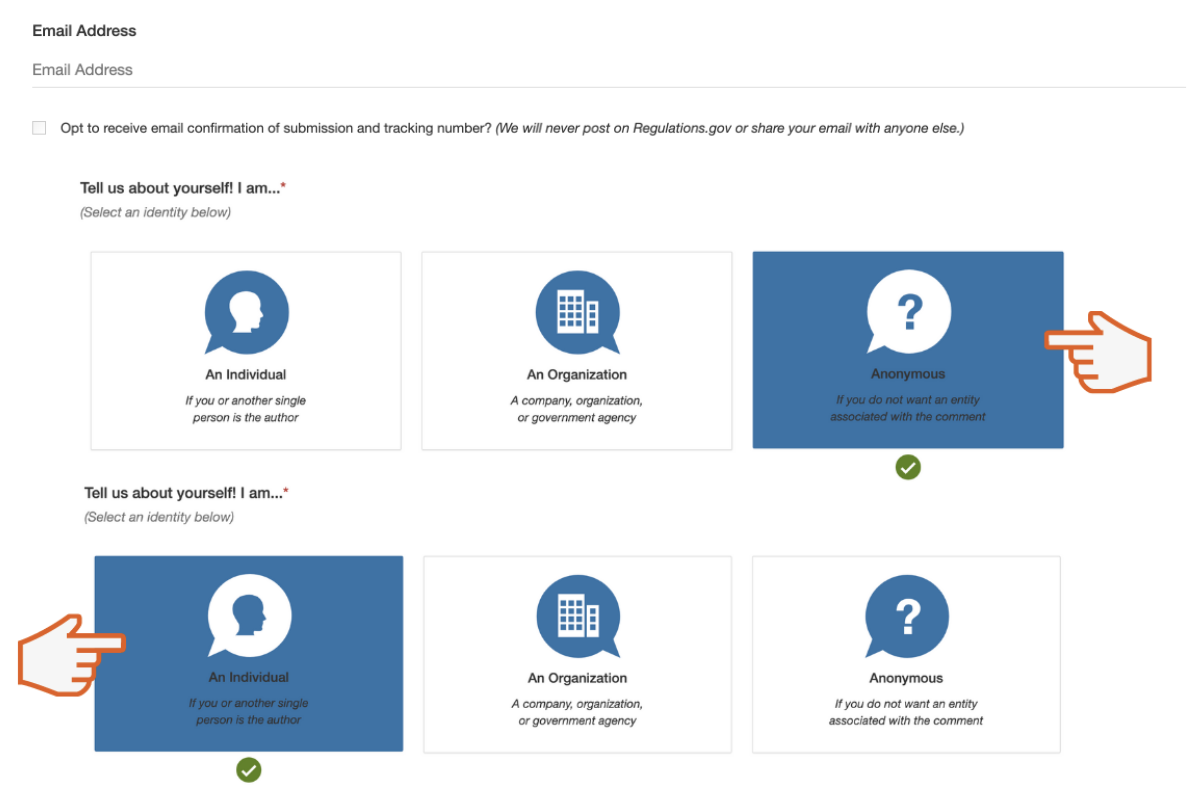 5. If you do select, "AN INDIVIDUAL" you will be required to enter your information. You need to fill out the specified fields.

6. After that step, you have to verify that you are indeed not a robot by clicking and doing the reCAPTCHA verification. Then hit, "SUBMIT".

7. And you are done! Hurray! You should get this message after you've hit submit. If you entered your email address, you will receive a confirmation email from them.

Now that we got the logistics out of the way, onto the juicy part!
HOW TO RESPOND:
Here are the three topline points we want to convey to the CDC on the health hazard of cruises restarting amidst a pandemic.
Hot Tip: We often provide sample responses for online actions, but this time I'd really encourage you to write a comment in your own words. It will make a much bigger impact! I've included some helpful talking points and resources to guide you below.
Point #1: Onboard Air Pollution is dangerous for passengers and crew and we have proof.
Comment: Air quality on board is bad and dangerous! The ultrafine air pollution from the ship's exhaust poses a serious threat to the health of both crew and passengers. And we have proof. Through our undercover investigation in collaboration with Johns Hopkins University School of Public Health, Stand.earth found that air pollution on the deck of cruise ships is worse than some of the world's most polluted cities.
Other key points:
Cruise ships should be required to shift to cleaner fuels and stronger filters to reduce ultrafine air pollution that can cause higher rates of asthma and cardiovascular disease which the CDC itself has indicated are associated with increased risk of severe illness from COVID-19.
Cruise ships have been a major vector in the spread of COVID-19, and must be required to do more to protect passengers and staff both from exposure to the virus, and pollution that is likely to increase the health impacts of COVID-19.
Other resources:
Point #2: Cruise ships run on the dirtiest and cheapest fuel available, which contributes to both climate change and negative impacts on the health of passengers and crew.
Comment: Cruise ships cannot come back until they start using cleaner fuels. By running on the dirtiest and cheapest fuel available, cruises put the health of not only the passengers and crew on board, but also the populations in coastal and port communities. How does fuel relate to health, you ask? The burning of dirty fuel generates large amounts of particulate matter and smog pollutants. So, it's basically like traveling in a bubble of pollution, smog and disgusting air.
Other key points:
Shipping emissions have been shown to cause much higher rates of lung and cardiovascular disease, as well as childhood asthma. These impacts are dramatically enhanced as a result of identified risk of more severe health impacts associated with COVID-19 on those with these underlying medical conditions.
Cruise companies could easily switch their ships away from bottom-of-the-barrel oil to run on cleaner fuels but refuse to do so, putting profits over the health of their passengers and communities they travel to, just as they have done with regard to the COVID-19 pandemic.
Point #3: There have been multiple reports of crew and passengers testing positive for COVID-19 where cruise companies have started sailing again.
Comment: 41 passengers and crew on a relatively small cruise ship in Norway tested positive for COVID-19. A crew member on a ship in the Pacific also tested positive for the virus. That's two too many instances of outbreak to approve the return of cruises.
Other key points:
Over 23,587 (so far) Stand.earth and concerned people have signed the petition urging the CDC to extend its No Sail Order.
Whew, that was a lot! If you just read all this and wrote in your comments using the topline messages – amazing work. Can I ask that you do one more thing, and let us know that you did it by adding your details to this short form?
Thank you for taking the time to submit your comment and spending this wonderful time with me via email. Here's a seal of approval of your awesomeness!
I'm so appreciative of you taking the time to speak up and express your concerns about the health hazards of restarting cruise ships during a pandemic.
I'm so glad you've joined this campaign and are part of the Stand.earth online community. Over the past few years we've been building a powerful movement of people who love our oceans and are ready to fight for them. Together we've been campaigning for cleaner shipping fuels and cracking down on serial polluters like Carnival cruises. And we're only just getting started! In the coming month we're going to be ramping up the pressure to make sure that cruise ships don't return to the sea without substantive changes to their health and environmental policies. I can't wait to see what we can achieve when we take action together.