Why lululemon?
November 28, 2022
"Why lululemon?" After all, we're told lululemon cares about people and the planet, right? Why not focus on other, bigger brands?
Why lululemon: coal kills
lululemon's products are made in factories powered by highly polluting coal, one of the dirtiest fossil fuels on earth. Burning fossil fuels contributes to climate change. According to the UNFCCC, "coal is the fossil fuel most responsible for heat-trapping emissions which are causing global heating," and "unless coal is phased out and global greenhouse emissions are halved by 2030, there will be no chance of the world staying below a 1.5 degrees global average temperature rise." Burning coal also emits dangerous air pollution that puts the health of local communities at risk, contributing to heart disease, lung and throat cancers, and respiratory diseases for people living nearby. Air pollution from burning fossil fuels like coal is responsible for millions of deaths yearly, as many as 1 in 5 deaths annually. 
Why lululemon: environmental justice
lululemon's use of coal is particularly harmful to people and the environment in the poorer communities where its factories are located — many in the global south such as Vietnam, Cambodia, and Sri Lanka, as well as communities where labour is cheaper such as China and Bangladesh. Asia is already experiencing unprecedented heatwaves, droughts and floods. A Harvard study found that air pollution from coal-fired power plants is already a significant killer in Southeast Asia, estimated to cause around 20,000 premature deaths per year and that the death toll could more than triple in the next 15 years. If all planned coal projects go through, that figure could reach 70,000 per year by 2030.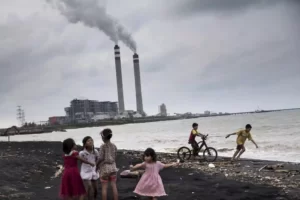 Why lululemon: lululemon is big and growing fast. 
lululemon is one of the largest, fastest-growing, and most profitable fitness apparel brands in the world. At the end of 2021, lululemon operated 574 stores in 17 countries across the globe. Over the last year, lululemon generated $6.3 billion in revenue, a 42% increase from 2021, and plans to double income to $12.5 billion by 2026. As for profits, lululemon has one of the highest gross profit margins in the sector. In 2022, lululemon enjoyed almost one billion dollars in profit, a 65.6% increase from the previous year. Currently, lululemon's growth and profitability mean two things: even more climate pollution (see below), and lululemon has the financial resources to commit to investing in renewable energy. 
Why lululemon: a large and growing climate footprint 
Almost half of the energy powering lululemon factories comes from burning coal. Given lululemon's size and projected growth, that's a lot of climate pollution. In fact, its total GHG emissions are increasing due to the company's rapid growth. lululemon's emissions jumped by a shocking 62.97% between 2020 and 2021, a compound growth rate of 37.83% since 2019. This trajectory is worryingly out of step with their commitments to reduce emissions. lululemon also saw its emissions intensity rise consistently in the past two years, showing that not only is the company failing to decouple economic growth from pollution, but its supply chain is also actually becoming more polluting. Every year the company grows without cleaning up its supply chain, it just continues to lock in more fossil fuels in the places where its factories are, like Vietnam, Cambodia and Bangladesh – countries already bearing the brunt of climate impacts.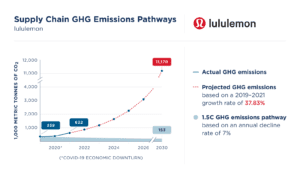 Citation: lululemon only began reporting greenhouse gas (GHG) emissions data in 2019. This chart is based on the last three years of emissions data and shows how quickly the company's emissions will grow without urgent action to decarbonize its supply chains. 
Why lululemon: hypocrisy and weak commitments  
Despite lululemon's claims about the importance of "health and wellness" and its commitment to reducing emissions from the factories that make its products (referred to as "scope 3" emissions) as part of the UN Fashion Charter, CEO Calvin McDonald has failed to implement the transition to renewable energy. Furthermore, lululemon has set a weak intensity-based emissions target of a 60% reduction by 2030 without considering the rapid increase in the emissions intensity of its growing business. lululemon has failed to match the degree of systemic change necessary to reduce their rapidly growing carbon footprints, or begin to eliminate their reliance on fossil fuels in their supply chains — much less keep pace with global climate goals. In order for the company to meet emissions reduction targets, lululemon has to take immediate action to phase out coal and other fossil fuels from its supply chain. For more, see this blog on lululemon's new sustainability report.
Why not other brands?  
Are we engaging other brands? Absolutely. Check out Stand's 2021 Fossil-Free Fashion Scorecard. Will we be publicly focusing on other brands in the future? Of course. lululemon is part of an industry that is responsible for somewhere between 5-8% of annual global greenhouse gas emissions, with emissions projected to increase significantly in the next two decades. Stand's Fossil Free Fashion campaign aims to protect the climate by moving the fashion industry away from fossil fuels, particularly coal, and into renewable energy – with an emphasis on reducing coal and ultimately phasing out demand in coal-intensive manufacturing countries. By securing meaningful leadership from the world's largest fashion brands, Stand will catalyze significant new investments in renewable energy and decommissioning of coal across both sector's global supply chains, at a far broader scale than would be possible on a country-by-country approach, with a durable and long-term impact. We envision major fashion brands becoming key catalysts for the rapid energy transition needed to drive climate protection and environmental justice, moving aggressively to become largely fossil fuel free by 2030. It starts with lululemon publicly committing to phase out coal and switch to 100% clean, renewable energy across its supply chains by 2030.  
Take Action 
lululemon is a leader on many fronts, breaking records and setting standards in the industry. With leadership comes responsibility. We expect more from leaders, and we expect more from lululemon. When it comes to climate change, lululemon is letting us all down. In this global climate emergency, we desperately need lululemon to use its brand for good – to invest in and help create demand for a clean energy future, joining other brands who have taken this initiative. It is essential that lululemon set out a clear timeline to eliminate the use of coal in its supply chain, by committing to end new procurement deals with suppliers that use coal and support existing suppliers to phase it out. We have faith that lululemon will find a way, rise to the occasion this moment demands, and set the bar high for others to follow. 
What can you do to motivate lululemon to provide the leadership that we all so desperately need? Join us in demanding that lululemon commit to phasing out coal and switch to 100% clean, renewable energy across its supply chains by 2030. 
Footnotes:
1. UN Agencies Support the Just Energy Transition in Asia and Emissions Gap Report 2022
2.  Fossil Fuel Air Pollution Kills One in Five People
3. The estimates range from one million to more than 8 million people annually, according to a 2021 Harvard study. See: Fossil fuel air pollution responsible for 1 in 5 deaths worldwide and Deaths from fossil fuel emissions higher than previously thought or Global mortality from outdoor fine particle pollution generated by fossil fuel combustion: Results from GEOS-Chem.
4. UN Agencies Support the Just Energy Transition in Asia
5. Koplitz, S., Jacob D., Sulprizio, M., Myllyvirta, L., and Reid, C. (2017). Burden of Disease from Rising Coal-Fired Power Plant Emissions in Southeast Asia. Environmental Science and Technology, Publication (Web): Jan. 12, 2017. https://doi.org/10.1021/acs.est.6b03731
ADD YOUR NAME
Sign the petition to lululemon to urge lululemon to ditch coal and commit to switching to renewable energy by 2030
Take Action