Fossil-Free Fashion Scorecard 2021
The fashion industry, which is responsible for 5 to 8% of all global greenhouse gas (GHG) emissions, must quickly ramp up its efforts to eliminate fossil fuels across supply chains in order to halve its emissions by 2030 in line with the Paris Accord.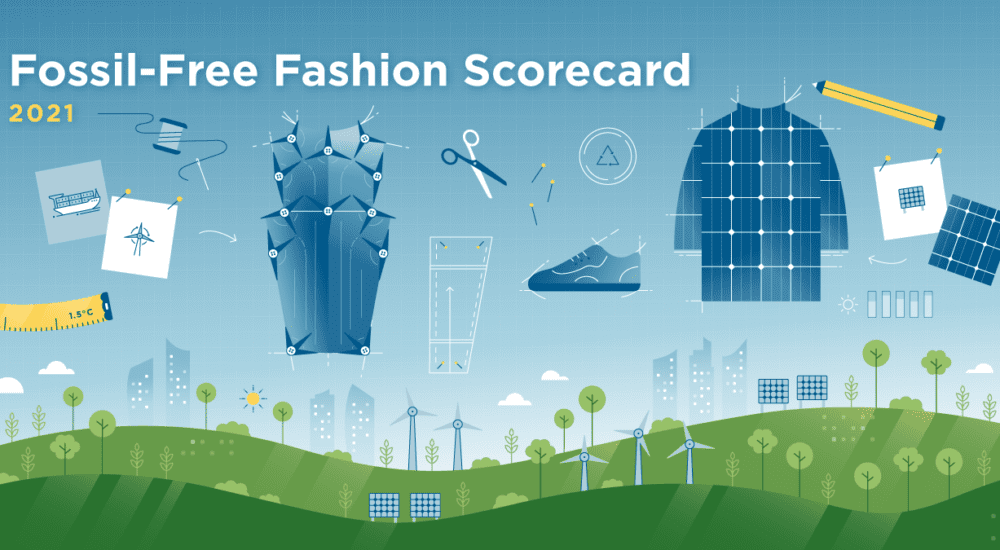 The fashion industry continues to rely heavily on coal to power the manufacturing of its products, contributing to rising climate emissions and deadly air pollution in countries, such as Vietnam and Bangladesh, where its supply chain is concentrated. Fashion brands are also driving demand for fracked fibers such as polyester, which are derived from fossil fuel feedstocks, and whose production is associated with significantly greater emissions compared to plant-based fabrics such as cotton.
Over the last few years, many fashion brands have pledged to take steps to cut the climate emissions generated from their supply chains by signing the Fashion Industry Charter for Climate Action, which commits brands to 30% emission reduction across entire value chains.[2] But as the runway to 2030 gets shorter, fashion brands must move rapidly from climate commitments to actions geared to phase out fossil fuels in order to halve their greenhouse gas emissions in this decade in line with limiting global warming to 1.5℃.
Climate science has made it abundantly clear that the fashion industry's business-as-usual reliance on fossil fuels to manufacture and ship its garments is not consistent with a climate-safe future. Continued reluctance by fashion brands to decarbonize their manufacturing processes also poses significant reputational and investor risk, with both consumers and shareholders increasingly demanding corporate action to cut down emissions in line with the Paris Accord.[3]
Stand.earth's Fossil-Free Fashion Scorecard benchmarks 47 leading fashion and apparel companies on their efforts to eliminate fossil fuels in the manufacturing, raw materials and shipping of their goods. The Scorecard builds on Stand.earth's Filthy Fashion Climate Scorecard published in 2019 by analyzing not only their climate commitments but also their efforts to increase renewable energy and energy efficiency in manufacturing, shift to low-carbon materials, and reduce climate pollution from shipping.