Health, Wellness and Pollution – How Sportswear Brands are Stretching "Sustainability"
A Deep-Dive into the Fashion Athleisure World - long read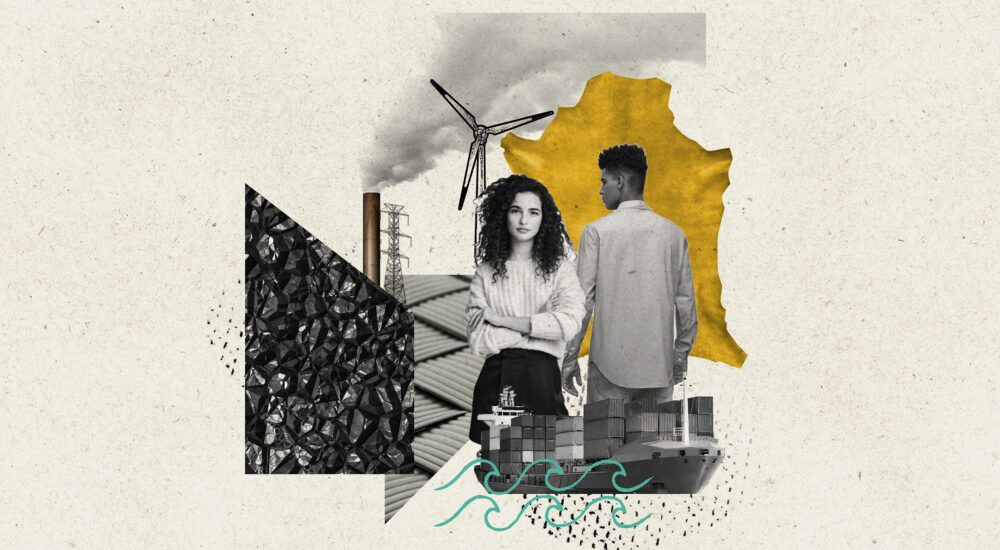 If you've started to feel like you're living in your yoga pants these days, you're not alone. In the last few years, the global athletic clothing market – clothing and shoes worn as athletic or everyday wear – has taken off in a big way. Sportswear brands like lululemon hit the jackpot during the first couple of years of COVID-19, capitalizing on our desire for comfort and community. But even as they market ideas of health, wellness and connectedness, behind these shiny-fronted stores are manufacturing processes, policies and actions that are incredibly harmful.
Fashion thrives off fossil fuels, demanding more and more to feed its production. Between growing emissions, expanding production, and near-total dependence on fossil fuels for fabrics and manufacturing, allegations of wage theft, and accusations of greenwashing around "sustainable" materials, sportswear brands have a lot of explaining to do. 
So while fast fashion takes the brunt of the criticism when it comes to fashion's major sustainability problems, arguably the athleisure and sportswear sector is just as problematic. Sportswear brands need to act now to phase out fossil fuels and ensure a fair and equitable transition for workers and manufacturers in their supply chains.
In this athleisure deep-dive, we look at how the biggest sportswear and athleisure brands included in Stand.earth's 2023 Fossil Free Fashion Scorecard measure up more than six months from its publication in March. We identify the key problems and solutions being driven by this part of the industry, including who is leading the race to the top, and who's still lounging at the bottom. 
Our assessment looks at how the sector's actual emissions stack up, what actions brands are taking to increase renewable energy sourcing, and how athletic/athleisure brands' use of fossil fuel-derived fabrics (e.g., synthetics like polyester and nylon) continue to promote fossil fuel dependency in the industry. 
The Good News:
Sportswear brands Adidas, ASICS, New Balance, Nike and PUMA are pushing ahead in the race for renewables.

 

The sportswear and footwear giants all increased transparency into their supply chain clean energy programs and provided information on concrete actions and progress supporting some suppliers to transition to renewables.

Adidas, ASICS and PUMA

have all set targets to transition some of their manufacturing to renewable energy. 
The Bad News:
Major sportswear, outdoor and athleisure leaders Under Armour, Columbia and Gap Inc (Athleta) failed to show real progress in phasing out fossil fuels

Columbia and Under Armour are far behind their competitors in transparently sharing information about their supply chains, while Gap Inc. failed to report significant progress transitioning its supply chain to clean energy, despite Athleta's B Corp status.

Sportswear brands' emissions are rising as the sector sees phenomenal growth.

 

lululemon, New Balance, ASICS

and

adidas

all reported double-digit increases in their manufacturing emissions.

Sportswear brands are embracing false solutions and greenwash.

 

Athleisure companies have an outsized reliance on fossil fuel-derived fabrics, and every sportswear brand we looked at has committed to increasing its use of recycled polyester, a false solution which does not support a fossil fuel phase-out, while support for textile recycling remains too low.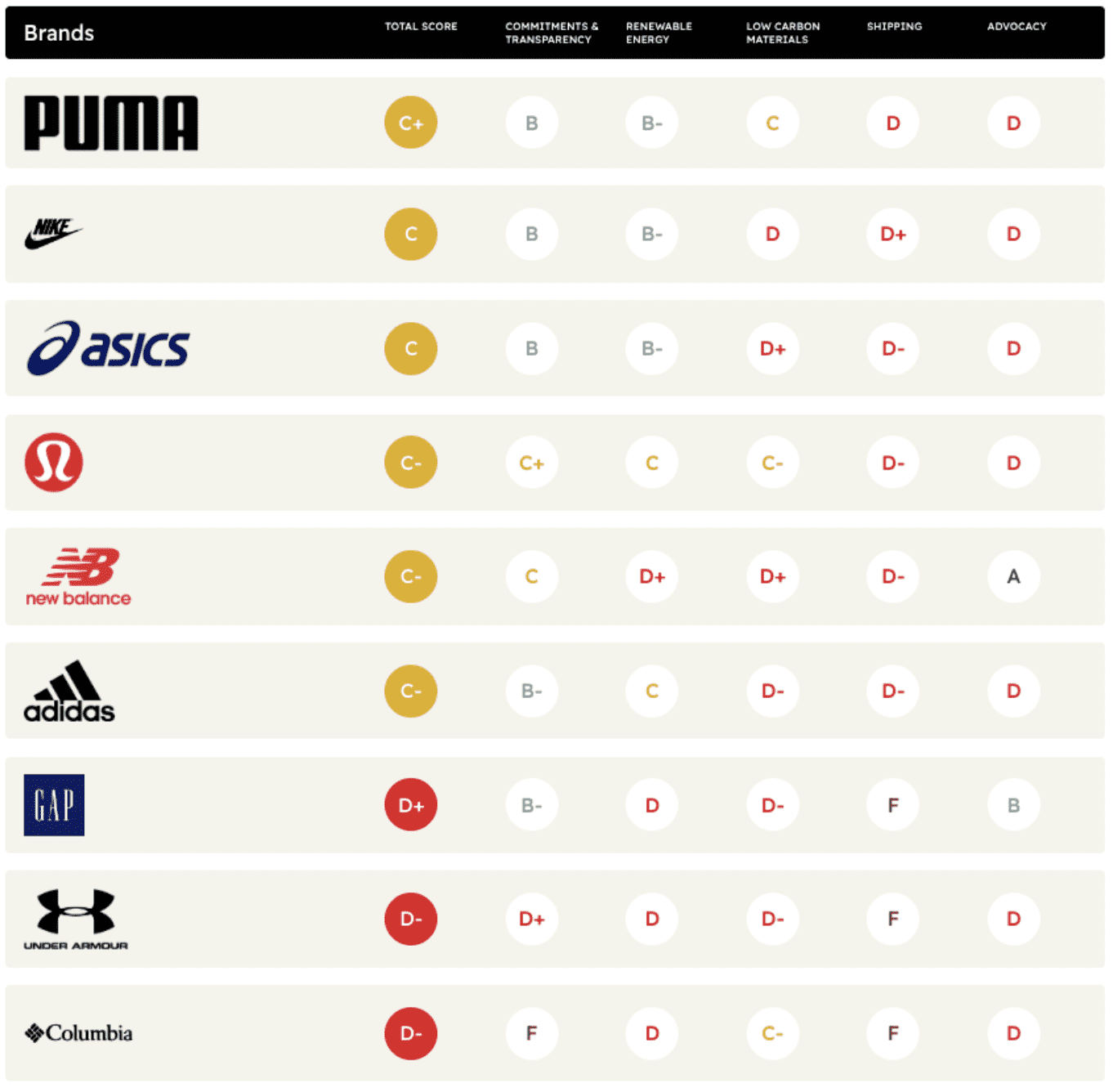 Six months on and progress remains slow – but it's there
In the 2023 Fossil Free Fashion Scorecard, 43 brands across a range of sectors – from fast fashion to footwear – were graded on their commitments, transparency, and actions toward cutting fossil fuels out of their production and shipping. The results were, to put it mildly, disappointing. The average grade across all the brands just crept into D+ territory, and even then commitments from brands far outstripped real action.
Among these nine major sportswear brands the picture was pretty much on par, with the total average grade creeping up to an unimpressive C- and ranging from PUMA at the top on C+, to Columbia and Under Armour languishing on a dismal D-.  =
These nine brands represent the biggest sportswear and athleisure brands – from yoga pants to running shoes – assessed in the 2023 scorecard, and some of the biggest fashion companies in the world. For this check-in on progress by this influential sub-sector, each brand's publicly available information was re-evaluated, and the companies contacted to request an update. 
Below is a brief snapshot of what we learned: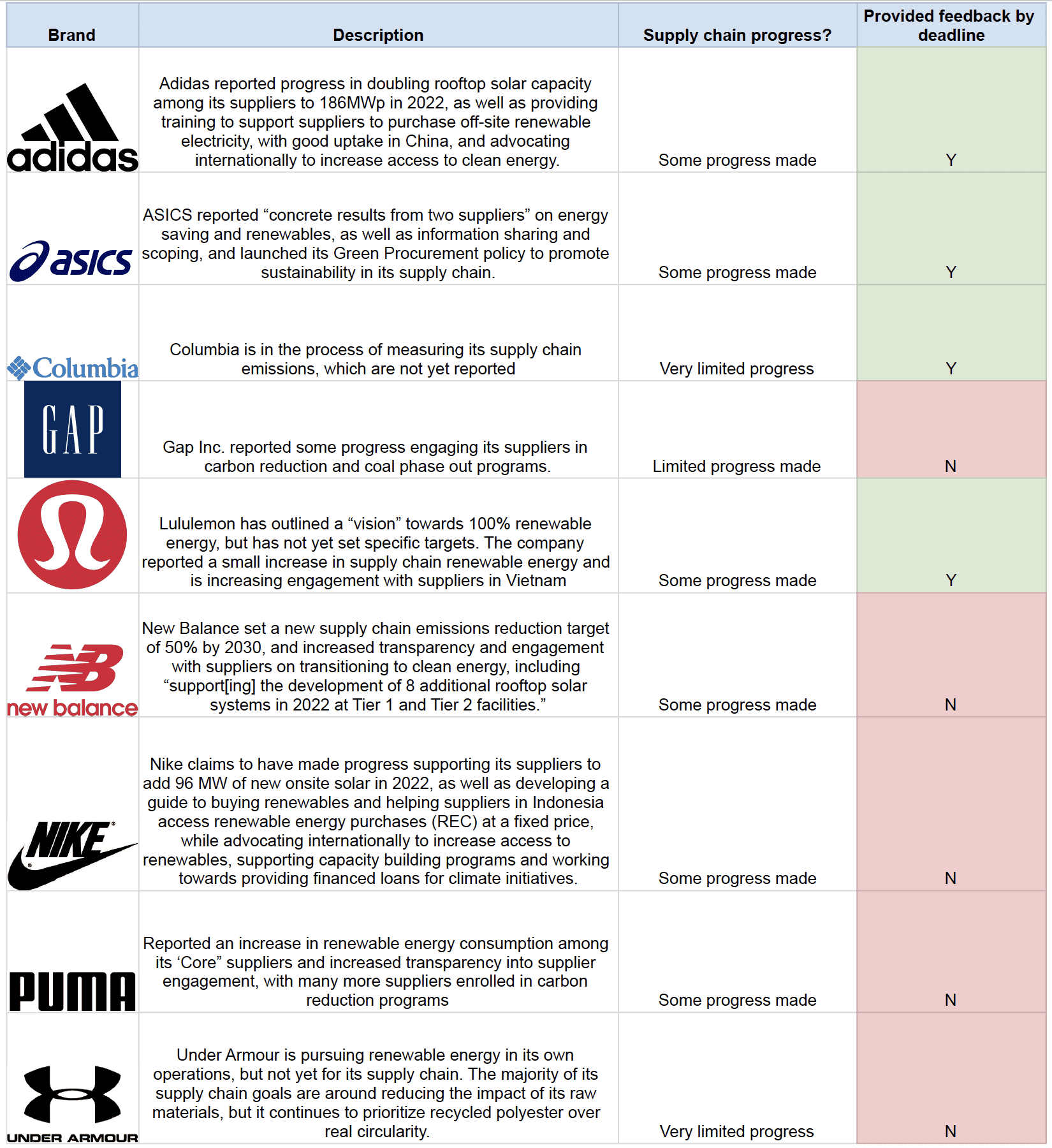 While there's not much here that's truly groundbreaking, what is exciting to note is that we're finally seeing more detail on concrete actions taken by brands like adidas, ASICS, New Balance, Nike, and PUMA to increase renewable energy and phase out coal in their supply chains. Even lululemon has set out a "vision" toward 100% renewable energy for its supply chain, although it's not yet accompanied by a concrete target.
However, Under Armour, Columbia, and Gap Inc. appear to be seriously lagging on progress and action when it comes to phasing out fossil fuels, and need to transparently report on the actions that they are taking to support a transition to renewable energy in their supply chains.
Inching ahead in action on renewable energy
As a very first step, brands that are going to reduce their massive climate impact need to set targets to reduce emissions, phase out coal, and increase the use of renewable energy to make their products.
More than 90% of a brand's emissions will come from manufacturers' factories because most of the clothes we buy are made in countries like Vietnam, Bangladesh, India, and China which are heavily dependent on fossil fuels like coal for electricity. That means brands need to set robust targets for their supply chains.
While the hard work of cutting emissions will ultimately be done at the manufacturing level, that doesn't let brands off the hook: climate action has to be shared. Brands need to be stepping in with more than just a demand list, they need to be bringing financial resources, too. Direct investment or financial support is key to supporting manufacturers to make the energy transition without adding even more undue burden, while signing long-term contracts, negotiating on decent terms and working with supplier companies and workers is key to making the transition fair and equitable for all. 
The good news is that sportswear brands adidas, PUMA, and Asics have all committed to transitioning some of their supply chain to renewable energy as a pathway for cutting emissions. This puts the sector in some respects ahead of others like fast fashion and luxury, where renewable energy commitments are even rarer. 
Half of the sportswear brands also reported offering some kind of financial support or incentive to their suppliers for renewable energy – adidas, lululemon, New Balance and Nike. 
However, while the kind of support on offer from these brands varies, in all cases it appears to stop short of the kind of direct funding to suppliers that industry experts say is needed, and brands need to report transparently on the actions they are taking and the impact it has.
Pulling ahead in the race for profits – at the expense of the planet
Over the last few years athleisure has become an incredibly lucrative and influential part of the fashion industry as a whole. Unfortunately, in terms of climate action it's definitely not acting like part of the carbon-cutting team.
In 2022, the global sports apparel market share was valued at $195.50 billion USD. By 2030, the industry is projected to be valued at $271.77 billion USD. That's as big as the global fast fashion market, and growing.
lululemon, for example, is showing revenue growth of over 20% year over year, while reporting plans to further double revenue in the next few years.
However, if these sportswear giants are showing massive revenue growth, it's been accompanied by even bigger growth in carbon emissions, because it takes a huge amount of polluting coal, oil and gas to make their clothes.
In Stand.earth's 2023 Fossil Free Fashion Scorecard, we found that on average emissions from manufacturing across all 40+ brands which had data available (excluding retail giants Walmart and Amazon) had increased by around 2% between 2019 and 2021. In order to do their part to keep global climate warming below 1.5C degrees on average, every brand needs to cut its emissions by at least half by 2030 according to the UN's emissions gap report, so even a small increase is still pushing dangerously in the wrong direction.
With that in mind, below is a look at the precipitous emissions increases seen by some of the biggest sportswear brands in the world during the same period: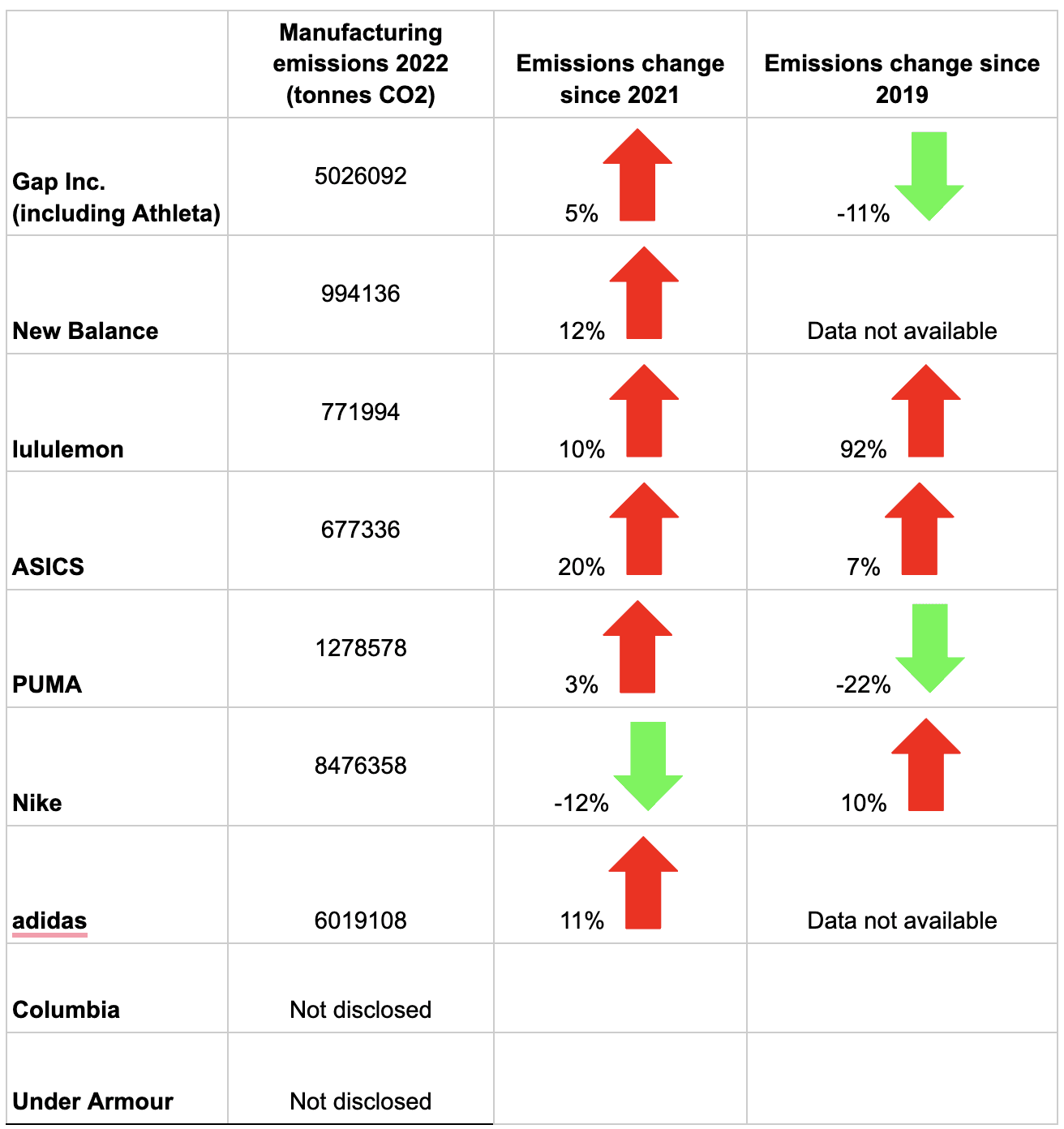 In just one year (2021-2022), the average manufacturing emissions (Scope 3, Category 1) from brands that publicly reported to CDP increased by 7%, and within that, there were huge variations. Only Nike reported reducing its emissions this year but has still reported an overall increase in emissions since 2019. The rest of the brands either did not disclose enough data or reported dangerously significant increases. Four brands – New Balance, lululemon, ASICS and adidas – reported double-digit increases in manufacturing emissions in the last year, with ASICS' emissions rising by as much as 20% in one year.
The data shows that since 2019 lululemon's manufacturing emissions have nearly doubled. The yoga giant may not be as big as some of the more established players yet, but it's clear that lululemon's emissions are growing out of control. 
This leads us to conclude that overall when it comes to emissions, the athleisure sector is still moving in the wrong direction, while Columbia and Under Armour are still lagging far behind in their failure to report transparently on their supply chain emissions.
Wearing your values: fossil fuel fibers
Most clothing brands today are using fossil fabrics – but sportswear brands are some of the worst offenders. All those stretchy bike shorts and moisture-wicking t-shirts are made of the same basic climate-wrecking substance – oil. 
Petrochemicals like polyester from fossil fuels are a major risk to our human and environmental health. They have been shown to shed dangerous microplastic particles every time they're washed, which go straight into wastewater streams and into the environment. Polyester is also full of toxic chemicals, which rub off into our bodies through our skin, and once clothes are discarded in landfills they leach into the environment as well. And, as a type of plastic it never biodegrades – polyester clothes can exist in the environment for hundreds of years, before gradually degrading into microplastics, releasing methane and toxic chemicals as they go. Not great.
While only three of our eight sportswear brands revealed what kinds of materials they're using overall, the picture from those that did was still revealing. Nearly three-quarters of the fabrics Columbia Sportswear uses are synthetic, at 62% polyester and 11% nylon. The trend continues with lululemon making its products from well over half synthetics, at 37% nylon and 25% polyester. Nike only reveals the volume by weight of its top five materials, but of these polyester is the largest at 180,645 tons, or 34% of the top 5, and other synthetics also make up a high percentage.
But in their eagerness to appear greener, there's one particular false solution that sportswear brands are embracing whole-heartedly: recycled polyester.
Right now, when a brand claims to be using recycled polyester, the vast majority of the time the plastic they're using is coming from recycled plastic bottles, which would otherwise be turned into new plastic bottles, and (hopefully) recycled again. When bottles are turned into clothes, they are destined to be incinerated or sent to landfill. 
Unless it's coming from a closed-loop system where polyester clothes are being turned into new polyester clothes, there's nothing sustainable about recycled polyester. However, right now only Gap/Athleta, lululemon, Nike and PUMA have commitments around increasing textile-to-textile recycling. Meanwhile, every brand is prioritizing the use of recycled polyester from plastic bottles. 
As a key driver of fossil fuel dependence and emissions in the athleisure subsector, to fully decarbonize these brands need to focus on increasing meaningful circularity and effective textile recycling over false solutions. 
Ultimately, however, the most important way for brands to cut their emissions and lower their use of raw materials is by making less, making it better, and making it last.
Despite some movement, more dangerous emissions growth is inevitable without action and transparency
Overall, this report from the biggest sportswear brands in the world paints a mixed picture, as the subsector leaders (Nike, adidas, Asics, PUMA) appear to move further ahead, while the laggards (Under Armour, Columbia, Gap) get further behind. More problematic, is that progress is still largely not reflected in emissions coming down.
While it is encouraging to see adidas, Asics and PUMA take action on renewable energy and report trying to support their suppliers to transition and to see increased reporting on concrete actions taken by some brands to transition to clean energy, the sector still has a long way to go.
When it comes to transparently reporting on how they will achieve their climate targets, a lack of accountability leaves consumers and observers in the dark about how an industry can hope to be considered sustainable while emissions continue to soar and fossil fuel-derived fabrics predominate. To provide meaningful accountability, sportswear brands need to share a transparent pathway to meet emissions reduction targets, which includes setting specific goals to transition to renewable energy in a rapid, fair and equitable way which financially supports – rather than burdens – their suppliers. 
Three key recommendations for sportswear brands:
Develop and publish a transparent pathway to cutting emissions and transitioning to renewable energy throughout the supply chain, including:

Energy consumption and sourcing data for suppliers

Details on brand responsibilities, specifically what the brand will do to address challenges including types of support, money and assistance available to suppliers to transition

Work with suppliers to make a fair and rapid transition to clean, renewable energy by:

Setting ambitious supply chain renewable energy targets;

Providing the financial resources and fair trading environment needed to help suppliers transition.

To avoid false solutions and accusations of greenwashing, prioritize textile-to-textile recycling solutions with funding and development, and commit to making less, but making it better.