Risk Map: Pellet Facility Threatens Primary Forest and Caribou Habitat
New maps show critical primary forests and endangered species in British Columbia overlap with pellet facility wood sourcing across an area equivalent to 1.4 million soccer fields.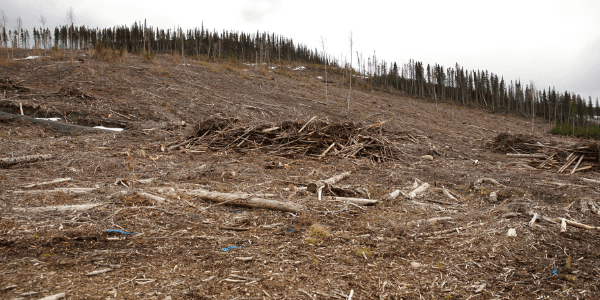 New investigation from Stand.earth reveals that Drax Plc., which operates the world's largest biomass burning plant out of northern England, is set to worsen its impacts on critical forests around the globe with a new acquisition of Pinnacle Renewable Energy—all under the guise of renewable energy and climate solutions and with billions in UK taxpayer subsidies in play.
The majority of Pinnacle's wood pellet facilities are in Canada — with a concentration in British Columbia — a region home to some of the most carbon dense forests in the world. This latest research from Stand.earth shows that Pinnacle's seven wood pellet facility "haul zones" overlap with critical primary forests and threatened species habitat.
Preliminary analysis from Stand.earth Research Group shows an area of nearly 845,000 hectares or 1.4 million soccer fields of unprotected primary forests and threatened caribou (reindeer) habitat in British Columbia will be at greater risk of being turned into wood pellets if Drax solidifies its footprint in this region.
The momentum to stop Drax in its tracks is brewing around the world. A range of global NGOs released an open letter to Drax shareholders urging them to vote against the acquisition.
Canada is the second largest exporter of wood pellets globally, shipping them primarily to the UK and Japan where governments have marketed the industry as carbon neutral — despite the science proving otherwise.